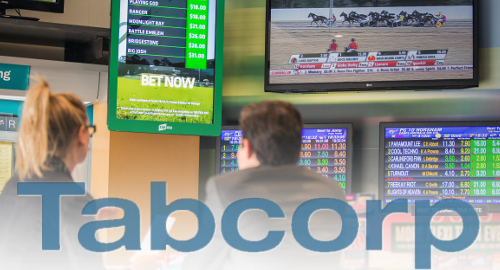 Australian lottery and betting operator Tabcorp Holdings relied on its lottery division to offset wagering declines following the absorption of rival Tatts Group.
On Wednesday, Tabcorp released its first annual report since the merger with rival Tatts. On a pro forma basis, which assumes that Tatts and Tabcorp were always joined at the hip, revenue in the 12 months ending June 30 was up 8.7% to AU$5.48b (US$3.72b), while earnings rose 7.6% to AU$1.06b and net profit after tax hit AU$362.5m.
The suddenly buoyant Lotteries & Keno division reported revenue up 22.8% to a record AU$2.86b and earnings up 29% to AU$509m. Excitement over Australia's new Powerball product – which accounted for 28% of lottery sales last year – drove active registered lottery players up more than one-fifth. Digital lottery sales shot up 73.5%, accounting for 23.5% of all lottery turnover.
The Wagering & Media segment fared less well, with revenue falling 3.6% to AU$2.3b and earnings down 7.9% to AU$416m. Tabcorp's original TAB brand reported turnover up 1.3% and active customers up 2.5% but revenue fell 3.6% due to higher "customer generosities."
Tabcorp will finish transitioning Tatts' betting brand UBET into the TAB fold in the current fiscal year, but the ongoing disruption led to UBET turnover falling 9.5% in Queensland, Tasmania, South Australia and the Northern Territory. However, UBET revenue fell by a smaller amount (7.2%), which Tabcorp claims is evidence that the transition is realizing "early benefits."
Digital wagering turnover was up 7.7%, now accounting for 44.6% of total turnover. The land-based wagering division got another boost this week after Tabcorp signed a new deal with ClubsNSW that ensures the company remains the exclusive wagering provider for the state's 1,200 clubs.
Tabcorp's Gaming Services unit, which now operates under the MAX brand, reported revenue down 3.5% to AU$304m. The decline was mostly down to the expiry of some contracts in Victoria.
Tabcorp CEO David Attenborough said "most" of the Tatts integration is expected to be complete in the current fiscal year. The company hopes to "further digitalize" wagering in its land-based venues and implement a new data platform but offered no guidance as to what investors might expect to hear this time next year.
Comments