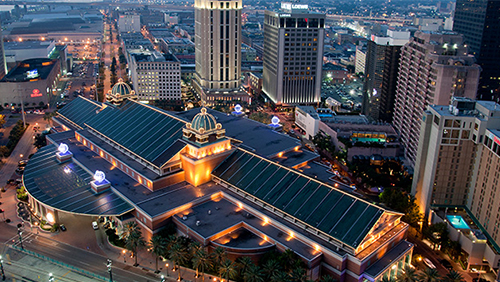 For just over $10 million a year, Harrah's New Orleans could have its casino license extended for another 30 years. The only land-based casino in Louisiana will most likely have its license extension approved before state lawmakers take a break in June, but that 30-year extension will cost the company $325 million in investment funds, as well as additional tax payments.
A bill currently being considered by the Louisiana House, House Bill 544 (HB 544), authorizes the 30-year extension, provided the casino's owner, Caesars Entertainment, agrees to make capital investments of $325 million that would need to be completed by July 2024. That is when the current license expires.
The bill's sponsor, House Speaker Taylor Barras, asserts, "It is the right thing for Harrah's and the right thing for Louisiana." This is the second time in as many years that lawmakers have tried to extend the license.
HB 544 was passed by the House Criminal Justice Committee this past Wednesday by a vote of 13-0-1. It now moves to the House floor for a vote, where it isn't expected to encounter much resistance before being forwarded to the Senate.
In addition to the capital investments, Caesars could be on the hook for $40 million over three years if it decides it wants to purchase the land where the casino sits. That land is currently owned by the city, which leases it back to Caesars and Harrah's.
There is also a stipulation in the bill that would see Harrah's pay $6 million annually to the city for "support services" and $3.4 million for education programs. Louisiana will pick up at least $60 million in guaranteed tax revenue each year and New Orleans will earn an estimated $8 million in rent and sales and property taxes.
Caesars isn't sold on the bill. David Satz, Caesars VP of Government Relations, told lawmakers, "This deal far exceeds what any casino in the United States pays for renewal." The venue hasn't been making as much profit as before, with only $288 million in gross gaming revenue (GGR) taken in during the 2018 fiscal year. That's $418 million less than what was seen ten years earlier.
Caesars wants to make improvements to the casino in order to attract new customers. In order to guarantee that its investment would be worthwhile, it wanted assurances from Louisiana that it wouldn't lose its license in the near future. Louisiana responded and Caesars will now step up.
The $325 million will go to a new 340-room hotel tower, an updated gaming floor and new restaurants. Satz adds, "This is about new revenue, recurring revenue for the city and state … and long-term stability."