Erkut Yilmaz is the new favourite to win the Season XVII World Poker Tour Player of the Year race after taking down his second title of the season with the victory in WPT Thunder Valley.
Erkut Yilmaz has beaten 280-entrants to win the $5,000 buy-in No-Limit Hold'em WPT Rolling Thunder Main Event at the Thunder Valley Casino Resort, Lincoln, California.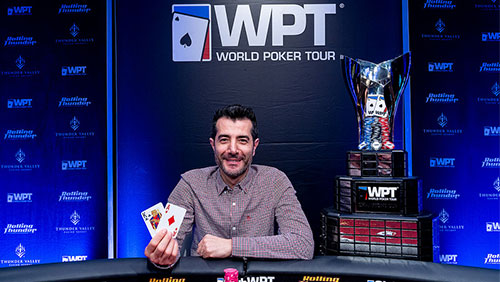 It's a second Season XVII title for Yilmaz after beating 1,075-entrants to take the $575,112 first prize in the $3m Guaranteed $3,500 buy-in WPT Borgata Poker Open back in September.
The win also sees Yilmaz overtake Dylan Linde in the race to become the Season XVII WPT Player of the Year (Linde finished fourth in Thunder Valley).
WPT Player of the Year Race
1. Erkut Yilmaz – 2,300 points
2. Dyland Linde – 2,000
3. Ping Liu – 1,900
4. Tony Ruberto – 1,850
5. Jake Schwartz – 1,725
The Action
WPT Rolling Thunder Final Table
Seat 1: Jim Collopy – 5,715,000
Seat 2: Erkut Yilmaz – 1,635,000
Seat 3: Ajay Chabra – 1,135,000
Seat 4: Dylan Linde – 1,675,000
Seat 5: Jerry Robinson – 795,000
Seat 6: Anthony Zinno – 245,000
It's never nice when you hit the rail holding pocket aces, and that's what happened to Jerry Robinson to become the first player to leave proceedings.
With blinds at 15k/25k/25k Robinson opened to 50,000 in the hijack seat, and Ajay Chabra made the call from the big blind. Ks5c4c arrived on the flop, Chabra checked, Robinson c-bet to the tune of 75,000 and called when Chabra check-raised all-in.
Robinson was ahead with his two red aces, but Chabra had flopped the world holding Ac3c for the flush and wheel draw. The 6s on the turn added four sevens to Chabra's long list of outs, and one of them duly arrived on the river to send Robinson home in the sixth spot.
Nobody was more pleased to see Robinson hit the rail than Anthony Zinno who began the final table as the short-stack. The three-time WPT Champion picked up an additional $18k for avoiding the sixth-place finish, exiting stage left in the fifth spot.
With blinds at 15k/25k/25k, Zinno opened to 55,000 in the cutoff, James Collopy called on the button, and Ajay Chabra also called in the big blind. The flop was a lowly looking 5d3c2d, Zinno bet 150,000, Collopy called, and Chabra folded. The turn card was the Jd, Zinno moved all-in, and Collopy made the call. Zinno showed pocket kings for the overpair, but Collopy held 9d7d for the turned flush.
Collopy took the chip lead after that hand, and Erkut Yilmaz replaced Zinno as the man struggling to keep afloat until he ran into a hot streak doubling first through Dyland Linde KQ>AJ after rivering a queen, and KThh>KdKS after getting extremely lucky to flop the nuts in a three-bet pot against James Collopy.
Then we lost the WPT Champions Club member, Dylan Linde.
With blinds at 15k/30k/30k Linde moved all-in for 500,000 from the small blind, and Collopy made the call in the next pew. Linde's Qc9c lost to Collopy's Ah3h.
Ajay Chabra was next to fall short, before doubling through Yilmaz 66>A4, and Collopy AQ>66. Yilmaz then doubled through Collopy KK>QJ, and then we lost Chabra.
With blinds at 30k/60k/60k, Chabra limped the button, Collopy raised to 360,000 from the small blind, Yilmaz folded, Chabra re-raised all-in, and Collopy called. Chabra showed pocket fives and was ahead versus the AdTd of Collopy until an ace appeared on the flop to end Chabra's hopes in the third spot.
Heads-up began with Yilmaz holding a 6.3m v 4.9m chip advantage, but Collopy would storm into a seemingly unassailable lead until Yilmaz doubled twice, once when A7cc beat T8dd and then when pocket deuces beat A9.
Collopy would then mirror Yilmaz doubling first with 88>AQ, and then A6>AT after turning a six. Then Yilmaz scored a massive double up when A7 beat JJ after flopping an ace, and Collopy never recovered. The final hand saw the pair getting it in pre-flop with Yilmaz's AK ahead of Collopy's QJ. Collopy did flop a jack, but Yilmaz hit an ace on the river to secure the victory.
"I feel like I'm in a dream right now; it feels great. I can't believe it happened again, and so soon," said Yilmaz after his win.
Yilmaz has now earned $1,870,954 playing live tournaments. His nine wins include a World Series of Poker Circuit (WSOPC) gold ring after beating 81-entrants in a $1,125 buy-in event at the Bicycle Casino in Los Angeles back in 2015, and of course his previous WPT title earned in September.
Final Table Results
1. Erkut Yilmaz – $303,920
2. James Collopy – $200,780
3. Ajay Chabra – $130,345
4. Dylan Linde – $95,530
5. Anthony Zinno – $68,860
6. Jerry Robinson – $50,720
Three other cave dwellers who went deep in this one included the former November Niners Bryan Piccioli (7th) and Joseph Cheong (8th), and WSOP bracelet winner, Shankar Pillai (9th).