The penultimate round-up of what's been a quite marvellous summer at the World Series of Poker focusing on Joe Cada's incredible victory in the $1,500 No-Limit Hold'em Closer.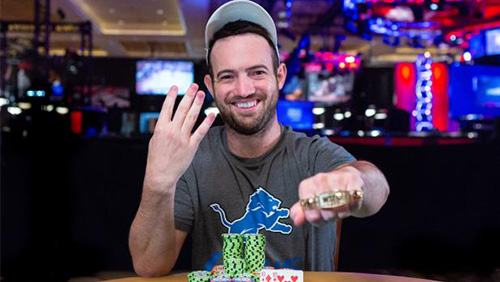 I don't think I can remember a World Series of Poker (WSOP) where so many people have enjoyed such incredible runs.
Scott Bohlman.
And now, Joe Cada.
The youngest man to ever win the WSOP Main Event had already conquered a field of 363 entrants in the $3,000 No-Limit Hold'em Shootout, to capture his third bracelet, before the Main Event came into full view.
Cada rolled back the years.
7,874 players made it the second largest field in Main Event history, and Cada captivated the poker world for ten full days finishing fifth for $2,150,000.
And now this: 
Joe Cada Wins Event #75: $1,500 The Closer No-Limit Hold'em 
They say there's no rest for the wicked, but there is also no rest for those who love the game of poker. One game ends, and another one begins, and it doesn't matter if the one ending is the Main Event.
Cada hopped into the 3,120 entrant Closer with the success of winning $2.5m still ringing like tinnitus. The $1m GTD event sucked in $4.2m, and Cada beat them all to win his fourth career bracelet.
We reached the unofficial final table with Cada leading the way with two million more chips than Richard Cox in second place.
Braydon Gazlay cut a few branches from Cada's impressive oak when his AK flopped an ace against Cada's QQ. Eric Afriat eliminated Sam Simmons cracking aces with kings when a third cowboy rode in on the river. And Richard Cox sent Joshua Turner packing in ninth when his KTs rivered a ten to beat KQ.
Gazlay's tournament ended in eighth when Afriat's pocket sevens survived a five card sprint against QJdd. Gazlay did flop a second queen, but Afriat nailed a set into the forehead of the American. Paawan Bansal moved closer to another bracelet for India when his A4 beat the 65 of Jimmy Poper. And we reached the final five when Richard Ali's pocket tens smashed the pocket jacks of Richard Cox after flopping a ten.
Bansal doubled through Ali 44>KT to take the chip lead. Jeffrey Tanouye eliminated Afriat when his A8o struck an ace against KK. And Cada took the chip lead when he doubled through Bansal A8>77 after flopping an eight.
Then Cada took a stranglehold on proceedings after eliminating Ali 88>44.
The three-handed chip counts looked like this:
Cada – 24,000,000
Bansal – 11,500,000
Tanouye – 8,000,000
And then there were two.
Bansal knew he had to be the man to take the scalp of Tanouye if he was to have any chance of beating Cada heads-up, and that's what happened when his QQ smashed T8o to take the tournament into the final tussle.
Heads-Up
Cada – 24,000,000
Bansal – 23,000,000
That's a lot of chips.
Plenty of play.
Nah.
It was all over in a single hand.
Bansal opened to 2.2m, Cada three-bet to 7m, Bansal moved all-in, and Cada called.
Cada: ThTd
Bansal: 9d8d
The 9s5h2c flop gave Bansal some hope, but it ended on the turn when the Ts emerged from the deck leaving the man from India drawing dead. 
Final Table Results
1. Joe Cada – $612,886
2. Paawan Bansal – $378,765
3. Jeffrey Tanouye – $278,774
4. Richard Ali – $206,813
5. Eric Afriat – $154,660
6. Richard Cox – $116,595
7. Jimmy Poper – $88,615
8. Brayden Gazlay – $67,904
9. Joshua Turner – $52,465
457 earned enough money to fly to Rozavadov for the World Series of Poker Europe (WSOPE) including Martin Finger (13th), Tristan Wade (17th) and Benjamin Zamani (22nd).
Will Joe Cada be heading to the WSOPE?
Cada told PokerNews that he would likely skip the event given the vastness of Deeb's lead, showing how amazing Deeb has been during this competition.
Here are the top five POY spots going into the WSOPE.
1. Shaun Deeb – 4,386.84
2. Ben Yu – 3,746.04
3. John Hennigan – 3,552.69
4. Joe Cada – 3,531.86
5. Scott Bohlman – 3,155.86