Another look at the World Series of Poker Main Event Final Table as 26 players condense to a final table of nine, with the 2009 champion Joe Cada still in with the chance of becoming a two-time champ. 
There was a lovely moment during Day 5 when Joe Cada reminisced about a hand he played in the 2009 WSOP Main Event.
"What tournament was that?" asked a player seated at the table.
"This one, in 2009."
"How did you do?"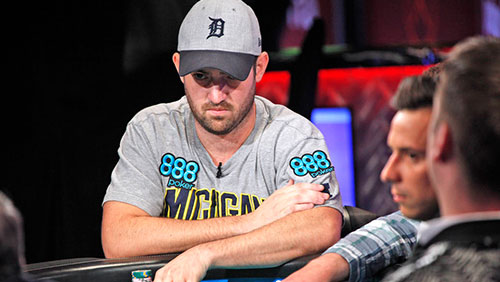 "I won it."
And he could win it again.
Doyle Brunson.
Johnny Chan.
Stu Ungar.
Legends.
But that was well before fields ran into the thousands. If Cada did this, where would that leave the young man on this treasured poker tapestry of ours?
Well, we might find out.
Cada is eight players away from doing it again.
Let's take a look at Day 7 of the WSOP Main Event. 
Level 31: 100,000/200,000/30,000 
Antoine Labat eliminated Jeff Trudeau in 26th place when his KJs defeated 88 after rivering a king, all-in pre-flop. Ming Xi sent the dangerous Barry Hutter to the rail when his AK sprinted ahead of pocket tens in the usual five-card dash. And another brilliant player exited stage left, when John Cynn sent Belgium's Bart Lybaert packing 77>55.
Level 32: 120,000/240,000/40,000
Alex Lynskey took care of Eric Froehlich KK>QQ; the two-time bracelet winner exited in 23rd place. Artem Metalidi moved up to 32.7m when he sent Nirath Rean to the cash desk to pick up his $282,630 22nd place prize after losing KQs<ATo. And the former November Niner, Sylvain Loosli, doubled through Metalidi KK>QTs.
At the break, Alex Lynskey had the chip lead with Antoine Labat and Aram Zobian, Nicolas Manion and Artem Metalidi not far behind.
Level 33: 150,000/300,000/50,000 
Michael Dyer moved into the chip lead after busting Paulo Goncalves in 21st place after the pair got it in on Js8d5s with Dyer holding 9s8s for middle pair and the flush draw versus AJo for top pair. The Ts on the river doing all the damage.
If you want to win the Main Event, and Ivan Luca is in the field, you're at an extreme disadvantage, so it was good news for everyone when Dyer sent the Argentine packing in 20th place 55>ATo. Alexander Haro followed in 19th when his A7o fell under the much larger shadow of the AK of Labat. And Dyer ensured only Joe Cada would have the chance of making a second appearance at the final table when he eliminated Sylvain Loosli in 18th place A5s>66 when an ace landed on the river.
China lost an entrant when Ming Xi exited in 17th place courtesy of a three-way squabble involving Xi's compatriot Yueqi Zhu, and the former European Poker Tour (EPT) Main Event winner, Frederik Jensen. The Dane held pocket nines; Zhu had AQ, and Xi the rather crappy looking Q8. The nines held. Xi was out.
Level 34: 200,000/400,000/50,000 
A new level, same old Dyer.
16 became 15 when Dyer picked up AQs at the same time Kao Saechao pitted his tournament life on KQo, and it let him down. Lynskey coolered Martijn Gerrits AA>QQ to send the Dutchman heading for the door marked 'exit' in 15th place. And Konstantin Beylin followed when his 97s lost to John Cynn's Q8s when all-in, pre.
Israel's interest in the 2018 Main Event ended when Hari Bercovici felt the rifle butt of Michael Dyer square on his nose. Bercovici moved all-in with pocket fours, and Dyer took him down with the trusty AK flopping an ace.
Level 35: 250,000/500,000/75,000 
Frederik Jensen played his final poker hand in Level 35. Yueqi Zhu opened for 1m, and Jensen jammed for 4.1m holding KQc. Zhu called with ATs, and it held. Jensen was out in 12th place for $575,000.
Ryan Phan, who won his entry into the Main Event playing in a $1,100 satellite, exited in 11th place for $725,000, courtesy of Metalidi. Phan moved all-in with pocket fives, and Metalidi called with jacks. That matchup rarely ends well. It didn't.
We were on the final table bubble.
Who would be the last person to exit without locking up a million bucks?
Yueqi Zhu.
And what a way to end the night.
Nicholas Manion opened to 1.5m, Antoine Labat called in midfield, and Zhu moved all-in for 24.7m. Manion also moved all-in, for 43.1m, and Labat made it an incredible three-way car crash of a hand when he also called.
Zhu and Labat both had the cowboys, and Manion had aces.
A wet dream for Manion.
Two clubs on the flop gave Labat some hope.
The 3s on the turn crushed it.
Zhu exited in 10th for $850,025.
Labat limped into the final table with 8.1m.
Manion, who is freerolling this tournament for 50% of his action, will begin with the chip lead. 
Chip Counts
1. Nicolas Manion – 112,775,000
2. Michael Dyer – 109,175,000
3. Tony Miles – 42,750,000
4. John Cynn – 37,075,000
5. Alex Lynskey – 25,925,000
6. Joe Cada – 23,675,000
7. Aram Zobian – 18,875,000
8. Artem Metalidi – 15,475,000
9. Antoine Labat – 8,050,000
The final table resumes at 5.30 local time, Thursday, July 12.
Comments