A quick look at the movers and the shakers in the $10,000 World Series of Poker Main Event, as Barry Hutter leads the final 310 players, chased by the likes of Brian Altman and Kelly Minkin.
The World Series of Poker (WSOP) Main Event.
$8.8m.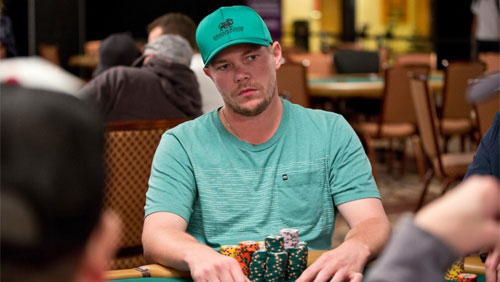 Man, you can buy a lot of crap with that kind of money.
In 2014, Tim Urban from Wait But Why figured out that if everyone in the world turned their net worth into cash, it would total $241,000,000,000,000.
If our 24 trillion dollars consisted of 100 dollar bills, and you placed them on the floor, side-by-side, inch-by-inch, you could fill the state of Vermont.
Urban is the only man on earth who knows precisely what you could do with $8.8m.
I'm the wrong man.
So instead of figuring out what to do with it, I will try and predict who will get the chance to do something with it.
Day 4 of the WSOP Main Event is in the Books
In case you need reminding, the Rio currently houses the most attended WSOP Main Event since 2006, and the second highest attendance in the history of the thing.
7,784 found a way to con someone out of $10,000, and at the end of Day 4, only 310 remained.
And there are some serious heavyweights left.
24 bracelet winners, with 42 bracelets between them.
One man who has been there before.
But before we get there, here are some of the big names who won't be winning.
Phil Ivey, Patrik Antonius, Barry Greenstein and Johnny Chan all met their Main Event Maker during Day 4. As did the 2010 champion, Jonathan Duhamel, leaving the 2009 champion, Joe Cada as the only former World Champion in the hunt (559,000).
And if anyone is going to repeat the feats of Stu Ungar and Johnny Chan then why not Cada, after he won his third bracelet earlier this summer beating 363 entrants in a $3,000 Shootout, as well as making the final table of the $10,000 Super Turbo Bounty event finishing ninth.
Here are the top chip counts.
Top 10 Chip Counts
1. Barry Hutter – 5,597,000
2. Alexander Haro – 5,031,000
3. Brian Altman – 4,861,000
4. Andres Jeckeln – 4,506,000
5. Hari Bercovici – 3,510,000
6. Kelly Minkin – 3,459,000
7. Franklin Azevedo- 3,410,000
8. Ubaid Habib – 3,300,000
9. Nicholas Newport – 3,269,000
10. Krasimir Yankov – 3,264,000
There is a long way to go, but Hutter is one of those players who can ride that chip stack to the final table. With over $4.3m in live tournament earnings and a bracelet on his resume, the man is a serious threat. Brian Altman eliminated Phil Ivey, so that should give him a morphine hit, and Kelly Minkin is flying the flag for the ladies.
Five to Watch 
Shannon Shorr (3,243,000) 
Shorr is one of a bunch of players with the unwanted tag of The Best Player Yet to Win a Major. Martin Jacobson used to be in that group until he won the big one.
Can the man The Global Poker Index (GPI) once named as one of the Top Ten Players of the Decade repeat the feat of the sexy looking Swede?
Shorr has eight cashes so far.
A few deep runs.
No final tables.
Benjamin Pollak (2,765,000)
Pollak had moved into another league since his third-place finish last year. The Frenchman flirted with the highest stakes in the business before his $3.5m win, but it seems to be a permanent thing since.
The Frenchman has won a lot of money since last year, and I wouldn't put it past him to use all of that experience to do a Mark Newhouse and make back-to-back final tables.
This is Pollak's first cash of the summer, although I doubt he's dipped his wick in many of them.
James Obst (2,560,000) 
It's been a quiet series for Obst.
I'm not sure if he has whiffed a ton of events, or decided to cut back on his schedule, but for a man of his ilk, four cashes and one final table (sixth in the $10,000 Seven Card Stud Championship), is out of character.
But the Australian is in the mix, and he has the experience of his 13th place finish in 2016 inside one sleeve, and a bracelet win hiding in the other.
James Akenhead (2,187,000) 
Only last week, Roberto Romanello unveiled Akenhead as a brand ambassador for the sports betting odds comparison app betclever. If Akenhead can win this thing, the Welsh Wizard will be a happy Papi.
The former Hit Squad member doesn't play poker as often as he used to, but he's on familiar terrain, making the final table of both the WSOP and World Series of Poker Europe (WSOPE) Main Events in 2009, finishing ninth in both.
Shaun Deeb (2,175,000) 
Can Deeb do it?
Of course, he can.
Deeb won his third bracelet a few weeks ago when he took down the $25k Pot-Limit Omaha High Roller for $1.2m, and his 11 cashes and two final tables put him second, behind, John Hennigan, in the Player of the Year (POY) race.
And if these five don't win, how about this motley crew?
Cliff Josephy (1,985,000), Chino Rheem (1,900,000), Sylvain Loosli (1,803,000), Ivan Demidov (1,290,000), Antonio Esfandiari (1,260,000), Tom McDonald (1,251,000), Paul Volpe (1,070,000), Bruno Politano (1,048,000), Daniel Alaei (916,000), Chris Moorman (907,000), Ema Zajmovic (851,000), Jake Schindler (476,000), Chris Bjorin (344,000) and Barbara Enright (275,000).