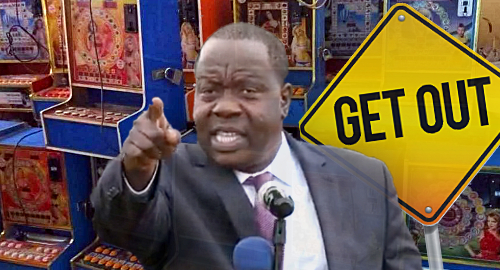 Kenya will deport any foreigners involved in illegal gambling activity as the campaign against Chinese-owned gambling machines intensifies.
On Monday, Kenyan media quoted Interior Cabinet Secretary Fred Matlangi saying that the illegal gambling machines that have proliferated in retail shops across the country were "a threat to our society" and the government "shall not accept" their continued existence.
Matlangi (pictured) was speaking at the symbolic torching of gambling machines brought into Kenya illegally. Most of the machines originated in China, and their operators could find themselves on a one-way trip back to China should they be caught by local authorities.
Kenya sought to bar the importation of gambling machines way back in January 2017, following Betting Control and Licensing Board chairman Anthony Kimani Kungu's claim that the bulk of the illegal machines were "installed by some Chinese in cahoots with some unscrupulous businessmen, especially bar owners."
Kenyan authorities have seized and destroyed thousands of illegal gaming machines in recent months, prompting pushback from operators. The Counties Amusement and Gaming Society filed contempt proceedings against the government last month, claiming that the seizures were in defiance of a 2016 court order that limited the government's authority.
The machine operators claim to be authorized by county-level officials, and thus the national government has no power under the Kenyan constitution to constrain their operations. The operators further claim that police are reselling some of the seized machines after emptying the machines of their cash.
County officials pointed out that many of the machines were destroyed only after the authorities allowed a week's grace in which the owners of the machines were asked to come forward and claim them. Since no one claimed ownership, the government claimed that it had the right to destroy the machines.
The government has also set a June 30 deadline for eradicating all illegal gambling machines from the country. In addition to threatening operators with new stiffer penalties, the government has warned local police that they'll face the full weight of the law should they be caught in cahoots with illegal gaming operators.
Comments