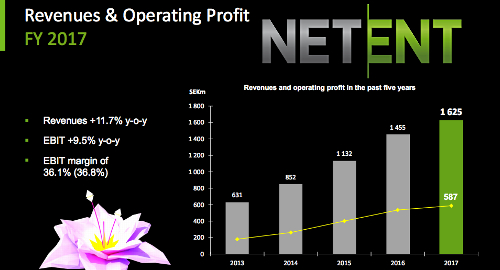 Online gambling technology provider NetEnt is celebrating an "eventful" 2017, despite the fact that the company "had expected a much better outcome."
Last week, the Stockholm-listed NetEnt reported revenue of SEK419m (US$52.4m) in the final three months of 2017, a year-on-year gain of 4.7%. Operating profit fell 3.9% to SEK150m as margins fell over three points to 35.8%, but after-tax profit still managed to rise 1.5% to SEK152m.
For the year as a whole, revenue improved 11.7% to SEK1.62b, while operating profit and after-tax profit each gained 9.5% to SEK587m and SEK552m, respectively.
NetEnt CEO Per Eriksson noted that the year saw the company make forced exits from three markets – Australia, Poland, the Czech Republic – that imposed new restrictions on online gambling operations. Eriksson said these exits negatively impacted revenue by 3% in Q4.
NetEnt's bottom line was also impacted by the company's "growth-enabling investments," which emphasized stronger product and sales organization, bolstering its Live Casino offering and relocating to larger offices in Malta.
Eriksson assured investors that NetEnt was "increasing our commercial focus and optimizing our organization to make sure that revenues grow more than costs."
NetEnt inked eight new customers in Q4, bringing the year's total to 37 new customer agreements. NetEnt also launched 35 new customers' casinos last year. The company launched its new Mobile Black Jack for its Live Casino in Q4, which helped push mobile's share of Q4's overall revenue to 54%.
NetEnt plans to release "at least 20" new games in 2018, up from 14 last year. The new titles include NarcosTM, via a deal with the Netflix series of the same name. NetEnt's partnership with online casino operator Mr Green on a "fully immersive" live casino product has already launched its first bespoke product, Live Beyond Live.
Comments