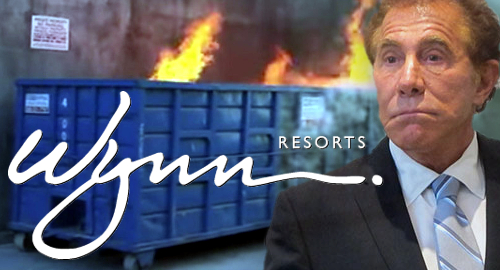 Sexual harassment allegations have prompted Wynn Resorts CEO Steve Wynn to resign as the Republican party's main money man.
On Saturday, Republic National Committee (RNC) chairperson Ronna Romney-McDaniel confirmed that she'd accepted Steve Wynn's resignation as the RNC's finance chair. The announcement came one day after media reports of multiple female staffers accusing Wynn of decades' worth of sexual impropriety.
Wynn, who has been among the Republic party's leading financial donors in recent years, was appointed to the RNC role in January 2017, shortly after Donald Trump was sworn in as the new President of the United States.
McDaniel's statement made no mention of the allegations facing Wynn, but Steve issued a statement on Saturday saying "the work [the RNC] are doing to make America a better place is too important to be impaired by this distraction." Steve's statement on Friday called the allegations against him "preposterous."
Wynn Resorts' stock shed 10% of its value on Friday, and the expectation is that Wynn Macau shares will undergo significant downward pressure when the Hong Kong exchange opens on Monday. Such a dip would spoil the momentum sparked by the stellar Q4 and FY17 results the company reported last week.
The allegations against Steve have sparked concern that he could be forced to step down as Wynn Resorts boss. The company formed a committee headed by Patricia Mulroy, a member of Wynn's corporate governance compliance committee, to investigate the allegations against Steve. The Nevada Gaming Control Board is also "reviewing" the situation.
Should Steve be forced to step down, Wynn is moving from the frying pan to the fire. Steve has no clear successor, in part due to what has been described as a weak board of directors allowing Steve to concentrate power in his hands.
The allegations could also spark fallout in Massachusetts, home of the in-development $2.4b Wynn Boston Harbor integrated resort project. The Massachusetts Gaming Commission (MGC) issued a statement saying it was "now aware of and is taking very seriously the troubling allegations detailed in the Wall Street Journal article."
The MGC's decision to award Wynn the sole Boston-area casino license was controversial due to allegations of favoritism by MGC chairman Stephen Crosby. Rival Caesars Entertainment accused Crosby of making unfounded claims regarding Caesars' regulatory unsuitability.
Crosby was ultimately cleared of wrongdoing but the issue of Wynn's suitability is now on the table. The MGC's weekend statement said assessing the suitability of its gaming licensees was "an active and ongoing process."
Massachusetts Gov. Charlie Baker added his voice to the growing controversy, saying he was "deeply disturbed by these allegations and expects them to be taken seriously." Baker said his administration "has a zero tolerance policy for sexual harassment."