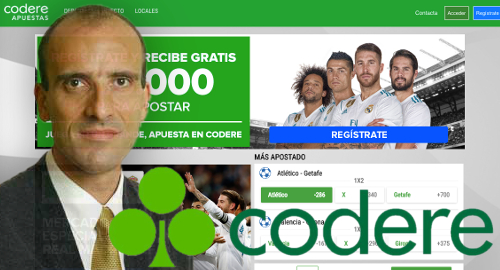 Spanish gaming giant Codere reportedly has a new CEO as the family that founded the company loses the struggle with its hedge fund rescuers.
The past few days have brought reports that Codere is preparing to name Vicente di Loreto as its new global CEO. Di Loreto (pictured), who served as Codere's Latin American boss until 2011, when he branched out on his own to launch Latin American gaming consultancy G3M Partners, will reportedly confirm his Codere return on January 12.
That same date will reportedly also bring official word that José Antonio Martínez Sampedro and Luis Javier Martínez Sampedro will abdicate their respective roles as chairman and vice-chairman of Codere's board of directors.
The Martínez Sampedro family founded Codere in 1980 but was forced to cede majority control of the company in 2014 after running up over one billion euros in debt, in part due to an aggressive Latin American expansion strategy.
The momentum behind Codere's management shakeup remains something of a mystery, with some outlets reporting that the move was pushed by Evermore Global Value, one of the hedge funds that rode to Codere's rescue in 2014 when the gaming operator was teetering on the brink of bankruptcy.
However, other reports suggest a different US private equity group, Silver Point Capital, as the prime mover of Codere's shakeup. The Silver Point Luxembourg fund holds a 22% stake in Codere, making it the company's single largest shareholder.
Carlos Villaseca, who currently heads up Codere's Mexican operations, will reportedly take over as CEO of all Latin American operations. In addition to Mexico, Codere currently does business in Argentina, Colombia, Panama and Uruguay. Argentina is Codere's strongest market, accounting for over one-third of group revenue in the company's most recent quarterly report.
The management shakeup follows rumors that Codere was contemplating a merger with Cirsa, the privately held Spanish gaming firm that also has a significant presence in Latin America.
Comments