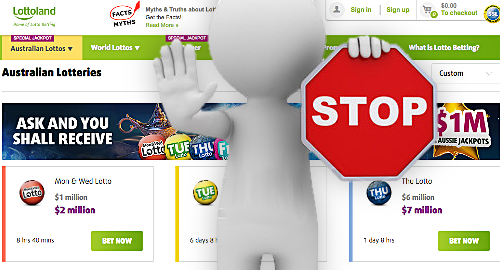 Online lottery betting operator Lottoland has been betrayed by its Australian regulatory body, which plans to ban its licensees from betting on Australian lotteries.
On Tuesday, the government in Australia's Northern Territory confirmed that it had instructed the Northern Territory Racing Commission to amend its rules to prohibit NT-licensed betting operators from taking wagers on the outcome of Australian-based lotteries.
Northern Territory Attorney-General Natasha Fyles told NT News that "concerns have been raised about how this synthetic betting practice has undercut hardworking small businesses, including many newsagencies" in the NT. "I have listened to the concerns and I'm taking action."
The Gibraltar-based Lottoland debuted its Australian betting site in January 2016, and Aussie punters were so thrilled to finally be able to wager on major international lottery drawings that within days they crashed the website. Lottoland's business model proved so popular – its registered customer list has since grown to over 600k – that Aussie rivals including the NT-licensed Crown Bet were soon launching me-too products.
But the site was long criticized by Aussie newsagents and domestic lottery operators like Tatts Group, who banded together a few months ago to launch the Lottoland's Gotta Go campaign. Aussie state and federal politicians proved only too eager to join the mob, including some who demanded that the Northern Territory revoke Lottoland's betting license.
Lottoland Australia CEO Luke Brill said the NT government's flip-flop didn't represent a major threat to his company's business, given punters' overwhelming preference for the much larger jackpots offered by international lotteries such as Powerball or EuroMillions.
AG Fyles said affected licensees will be given a "short, reasonable period" to adjust their product offering to comply with the new rules, and Brill said it was business as usual until the government offered more specifics.
Comments