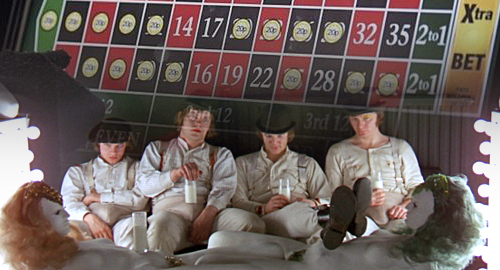 Two gamblers on trial for smashing up fixed-odds betting terminals (FOBT) in a Ladbrokes betting shop are claiming that their actions were the result of a FOBT-induced trance.
A few weeks before Christmas 2016, two Cheltenham residents, Aaron Cawley and John Dymock, were charged with causing £20k worth of damage at a Ladbrokes betting shop. The 26-year-old Cawley and the 30-year-old Dymock reportedly lost a packet playing one of the shop's FOBTs, prompting them to go on a vandalism tantrum.
Dymock originally pled guilty to his role in the rampage, but has since asked to withdraw his plea. In August, the pair informed the court that they planned to plead not guilty due to having suffered from 'automatism,' aka a form of temporary insanity they claim was induced by the FOBTs heady cocktail of flashing lights and beeping sounds.
At their August court hearing, the pair's attorney Alison Gurden told the judge, Recorder Paul Grumbar, that the vandals were suffering from "automatism due to a gambling addiction." A skeptical Grumbar expressed surprise that the condition had "afflicted them both at the same time."
Gurden replied that "research" indicated that when automatism-afflicted gamblers "lose all their money, they can go into the next stage, which is well documented, which is that they feel the need to smash up the machines."
At a follow-up hearing on Thursday in Gloucester Crown Court, Gurden claimed both of the accused had "filled in self-exclusion forms, but were invited in" to the betting shop anyway. The pair proceeded to lose £1k in 20 minutes, after which they had no choice but to engage in a bit of the old ultraviolence, because, as Gurden explained, FOBTs "are designed to induce a trance-like state. To keep people focused on playing."
Judge Jamie Tabor warned Gurden that her automatism defense "won't get anywhere without a report" supporting her claims. Gurden claimed that she'd "done a lot of research into this area" and had commissioned reports to aid her defense, prompting Tabor to suggest she deliver those reports to the court ASAP. A pre-trial review has been scheduled for December 21.
There are likely no shortage of 'experts' willing to supply Gurden with 'evidence' of FOBTs' ability to lead unsuspecting gamblers off the straight and narrow path. Many of these same experts will be the same that perpetually recite the possibility that a gambler could lose up to £300 per minute betting the current maximum FOBT stake. Yet it took Cawley and Damock 20 minutes to lose £1k, suggesting the machines aren't necessarily as rapacious as advertised.
The FOBTs have endured an endless torrent of abuse in the UK media and are widely expected to face tighter restrictions on their use – including possible reductions in maximum stakes and the number of machines per shop – when the UK government releases the results of its triennial review of the gambling industry next month.
Comments