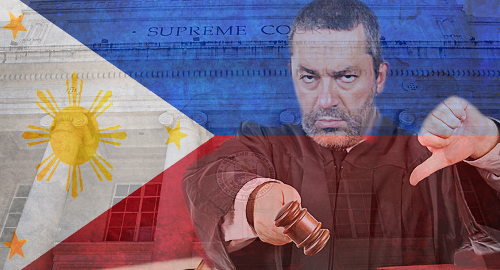 The judge who sparked nuisance raids on Philippines-based online gambling operators has been suspended without pay for two years.
Late last month, the Supreme Court of the Philippines voted 10-4-1 in favor of suspending without pay for two years Judge Zaldy Docena for gross neglect of duty in the mismanagement of search warrant applications.
Some of the Supreme Court justices had argued that the court follow the recommendation of the Office of the Court Administrator, which wanted Docena dismissed from all future service based on his gross ignorance of the law, gross negligence and gross misconduct, but the Court ultimately took Docena's 30 years of government service as a mitigating factor. Regardless, Docena has been warned that he will face more severe punishment should be repeat his offenses upon his return to the bench.
Last year, the Supreme Court issued a resolution barring Docena from issuing further search warrants pending further investigation of his decision-making process. CalvinAyre.com readers will recall that Docena was the judge who issued the warrants that led to the raids on the Manila offices of a company providing support services to Philippines-licensed Bodog Asia in November 2013.
In 2014, the Philippines Court of Appeals ruled that the raids were illegal, due to the fraudulent affidavits filed by former Bodog Asia exec Jan Robert Gustaffson, who, along with several accomplices, had been charged with embezzling from their former employer and needed a distraction to throw prosecutors off their trail.
In related news, Wilfredo Sy, the Police Chief Inspector who led the raids on the Bodog Asia offices, has been ordered by the Court of Appeals to show cause why he should not be cited for contempt for failing to account for missing items.
CalvinAyre.com understands that Metro Manila prosecutors aren't yet done with the gang who couldn't shoot straight, including Gustafsson, who was recently rumored to have joined online casino games distributor Qtech Games, as well as his co-conspirators Sylvia Bernadette Gonzales de Guzman and Sherwin Quiambao, all of whom have warrants out for their arrest in the Philippines on charges of qualified theft.
Other members of Gustafsson's inept crew with reason to fear the long arm of the law include Jasmin Singh, Anthony Arcilla, Rosemarie Fegueroa Frialde, Mariano Monteras, Mary Jane de Guzman, Maria Arleen Aldaba, Robbie Grewal and Patrik Selin. But unlike Judge Docena, they likely won't have to wait two years to see the inside of a courtroom.