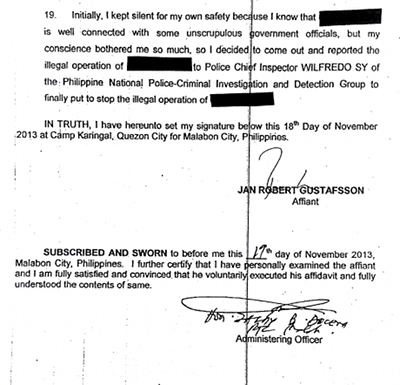 Legal paperwork has proven that the late-November raid on Bodog Asia's Manila offices was instigated by none other than former Bodog Asia CEO Jan Robert Gustafsson and his Manila-based crime gang. At the time of the raid, Bodog Asia staffers were told by police on the scene that Gustafsson had been the catalyst for the intrusion, but CalvinAyre.com has since obtained a copy of the affidavit that was used to obtain the search warrant, which bears Gustafsson's signature (see attached image). As in related nuisance cases filed by the gang who couldn't shoot straight ­– Gustafsson, fellow Swede Patrik Selin and their mostly foreign associates ­– the wild allegations contained in the affidavit have virtually assured Gustafsson will add a perjury charge to the fraud, embezzlement, car theft and other charges he's already facing.
Among the many howlers contained in Gustafsson's affidavit, the highlight has to be his claim that he'd been acting as CEO of Bodog Asia for a full year before discovering that part of the business under his control involved gambling activity. In November 2012, Gustafsson claims to have overheard a Philippine call center agent talking to an overseas Bodog Asia customer who was having difficulty making a deposit. Gustafsson claimed to have used his Wallander-worthy powers of deduction to determine that the call involved online gambling.
Intrigued, Gustafsson claims to have confronted the call center employee, who confirmed that such customer service calls were a regular occurrence. Shocked ­– shocked! ­– by this discovery, Gustafsson concluded that Bodog Asia was a clever front for an online gambling operation, rather than the Ikea branch office Gustafsson believed he'd signed on to manage. The notion that Gustafsson had no idea he was running an online gambling company may go a long way toward explaining why he was so inept at his job, which led to his unceremonious dismissal for incompetence and suspicion of theft in March 2013.
Senior Bodog Asia staff have told CalvinAyre.com that other claims in Gustafsson's affidavit, including the suggestion that Bodog Asia accepted wagers from Philippine residents, are so patently false that Gustafsson has left himself wide open for a conviction on perjury and libel charges.
Perhaps Gustafsson intends to continue to use his Mr. Magoo act as a defense, maybe by walking into a Manila police station over the next month or so, dirty and unshaven, claiming to have been suffering from amnesia for the past six months and asking to be legally excused from liability for any documents he may have signed while his brain was on sabbatical.
COLLATERAL DAMAGE
While Gustafsson's ineptitude may have had its entertainment value, the damage of his gang's assault has gone far beyond slurring the good name of Bodog Asia and Bodog brand founder Calvin Ayre. As far as master strategists go, let's just say Wile E. Coyote is feeling a whole lot more positive about his overall performance after watching Gustfasson & Co. flail about like a baby with a nail-gun. Collateral damage has been high.
Gustafsson and his principal co-conspirators were international guests of the Philippines when they unleashed their plot late last year. They are rumored to be planning to flee the country, leaving behind a domestic industry facing questions about its future and employees wondering what they did to deserve this kind of shoddy treatment.
The Philippine online gambling industry has been a remarkable domestic success story that demonstrates what happens when the country's savvy workforce is teamed with sustained international investment and a good legal framework. Years ago, the country had the foresight to enact a sensible regulatory environment and the result was a steady influx of Asian-facing companies offering good-paying white-collar employment to thousands of Philippine nationals.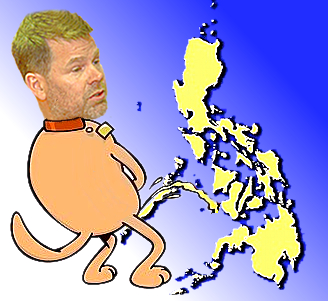 But the actions of the Gustafsson gang have raised doubts about the wisdom of placing too large a business footprint in the Philippines. Companies are alarmed by the relative ease with which an alleged embezzler fired for incompetence managed to convince members of the legal system to stage a retaliatory raid on his former employer. Not all operators have Bodog Asia's resources and thus might not be able to replace all their seized equipment on such short notice, leaving these operators unable to conduct business for an indeterminate period.
Discreet inquiries are now being made of other Asian jurisdictions as to which offer a safer harbor for company assets. Barring reassurances from the local government, companies are likely to institute a hiring freeze, possibly even make some precautionary belt-tightening measures.
Gustafsson may have been crap at running an online gambling company, but Bodog Asia staff told CalvinAyre.com that he did manage to successfully ingratiate himself with many employees by presenting a kindly father figure image. Still, Daddy Dearest either didn't believe or didn't care that his move against Bodog Asia and Calvin Ayre was bound to come up snake eyes, and those hundreds of employees with whom he'd supposedly bonded would be left wondering why Gustafsson had been so eager to gamble with their futures.
Adding insult to injury, CalvinAyre.com has learned that Gustafsson and Sylvia De Guzman – the Spanish-American 'Bonnie' to Gustafsson's Swedish 'Clyde' ­– are currently the subjects of tax audits by the Philippines' Bureau of Internal Revenue (BIR). So not only were these foreigners willing to jeopardize the jobs of hundreds of Philippine citizens ­– and the thousands of dependents associated with those jobs ­– via their brazen attempt to line their own pockets, they appear to have been equally cavalier about honoring their tax obligations to their host nation. Seriously, invite this power couple to your next dinner party and there's a good chance they'll vomit on the carpet while attempting to diddle your significant other.
HOW TO LOSE FRIENDS AND INFLUENCE NOBODY
While the Philippine government has numerous reasons to take issue with Gustafsson's actions, the gang's botched heist has irritated one particular member of the establishment more than the others. It seems Gustafsson & Co. had managed to convince this power broker to advance them $3m to help set up their own online gambling company using Bodog Asia's source code. But their backer has grown annoyed at the negative media attention the gang's antics have generated and is now asking for his money back. So not only did the plotters fail to acquire their code, they now have to find a way to refund their backer in full. In possibly related news, did we mention that Gustafsson is planning on leaving the country for his native Sweden?
The potential loss of this political heavy's support goes a long way toward explaining the aggressive PR campaign Gustafsson embarked upon in late-November. Faced with legal bills stretching out to the horizon and a sugar daddy serving notice of cutting his losses, Gustafsson opted for a Hail Mary mudslinging PR pass to attempt to extort money to pay his bills and restore the lifestyle to which he believes himself entitled. Not only did this desperation heave fall well short of its target, it left onlookers with the impression that the local online gambling industry was just shy of Murder Inc. on the criminal scale. This is bad for everyone in the industry and for the country as a whole.
Even assuming they're capable of repaying their former backer's advance, these ungrateful tourists face one of two outcomes: lengthy jail sentences for their criminal activities or a life on the lam with no hope of ever again setting foot on Philippine soil. Perhaps it's no wonder Gustafsson rejects the notion that anyone else involved in this debacle might have a greater claim on the title 'victim.'
Shortly after the first fraud charges were laid against Gustafsson, he personally messaged a former associate of mine here at CalvinAyre.com on Facebook, insisting that he – as one of the "good guys" in this story – would ultimately emerge unscathed, as the allegations of his impropriety were "just too crazy to believe." Gustafsson appears to believe that if he says that often enough, it just might come true, proving once and for all that Gustafsson knows 'crazy' a whole lot better than most people.
We will continue to cover this "crazy" story as further news breaks, as this tale has more legs than a centipede, ensuring that we'll still be talking about it for years to come.
Comments