A Portuguese student wins the WPT DeepStacks Main Event in that neck of the woods, and the World Poker Tour Champions Club member, Jordan Cristos, changes his mind about the shot clock.
A 24-year old student from Portugal has won the latest WPTDeepStacks Main Event, in the Casino Vilamoura, Portugal.
Francisco Lopes defeated a field of 250 entrants to take down the $65,521 first prize, after a heads-up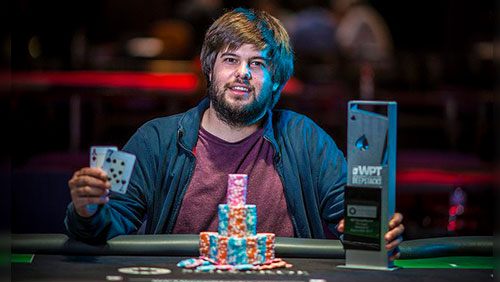 victory over a man who is becoming a permanent fixture on the European WPTDeepStacks scene.
The Algerian, Omar Lakhdari, not only came to the final table sitting on a healthy chip lead worth 151 big blinds, but he also knew the way to the final two spots, after finishing runner-up in the WPTDeepStacks Main Event in Cannes back in June for €43,720 pay day.
When he reached the heads-up stage against the young Portuguese player, he did so with a 2.3m v 3.9m chip deficit. It was an even heads-up fight with not much to separate the pair until the final hand.
Lakhdari opened to 225k, Lopes moved all-in, and Lakhdari called. Lopes showed down A7, and Lakhdari held Q8. The dealer laid five bricks onto the felt, and Lakhdari would once again have to settle for the role of bridesmaid.
Lopes not only wins €55,010 but a €2,000 WPTDeepStacks European Championships Berlin package scheduled fo  5-8 January at the Spielbank Casino, Berlin.
The next WPTDeepstacks action takes place 8 Sep at the Seminole Casino Hotel Immokalee for another $1,100 WPTDeepStack Main Event.
Final Table Results
1. Francisco Lopes – €55,010*
2. Omar Lakhdari – €40,037
3. Manuel Borges – €25,754
4. Paul Marius – €19,061
5. Gregory Janin – €14,305
6. Joao Franco – €11,446
7. Pedro Goncalves – €9,506
8. Pedro Ferro – €7,615
9. Omar Cabral – €5,699
* €2,000 WPTDS European Championship Package
Another notable who went deeper than a centre forward who doesn't know the offside rule was the former WPT Player of the Year, Anthony Zinno, who finished in 23rd place.
WPT Champ Has a Change of Heart 
Three people immediately spring to mind when people start complaining over the snail like speed of poker's decision makers: Marvin Rettenmaier, Byron Kaverman, and Jordan Cristos.
When the WPT announced plans to introduce the Action Clock in all WPT Main Events after reaching the money, it was Cristos who was the most vocal about the decision on Twitter calling it a bad day for poker.
Despite his consternation, Cristos competed in the WPT Choctaw event where the clock would be used for the first time finishing in 20th place. Matt Savage told your truly that Cristos was a gentleman, and could have won it if it wasn't for his rough exit hand when Josh Kay got lucky on the river in an all-in pot for Cristos' tournament life.
And it's here that Cristos deserves some praise for once. Rather than bemoan his luck and complain that without the Action Clock, Kay might have folded in the critical hand, he spoke to Lance Bradley of PocketFives to explain how he got this action clock thing all wrong.
"I think it's a blessing in disguise, for me personally, and for poker," Cristos told Bradley. 
It was the right play from Cristos.
Former WPT Player of the Year, Faraz Jaka, nailed it when he said:
Always respect someone who can change their stance & admit they've started seeing the other side on something they were so opinionated on

— Faraz Jaka (@FarazJaka) August 29, 2017
Respect.
Comments