Former professional poker player, Alex Jacob, has won the Jeopardy! Tournament of Champions; former Bluff Chief Lance Bradley joins PocketFives.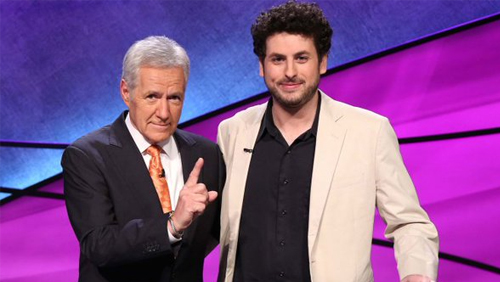 The world of poker continues to pick apart the world's best game shows with their pocket knives after Alex Jacob became the 2015 Jeopardy! Tournament of Champions winner on Friday night.
Host Alex Trebek called Jacob's performance "the most dominant performance of anyone in any of our tournaments." An accolade of the highest order when you consider as of June 2014, Trebek held the Guinness World record for hosting 6,829 episodes of the hit game show.
Trebek's trumpet blowing comes hot on the heels of several claims that Vanessa Rousso's performance on the game show Big Brother was the most strategically brilliant in the shows history.
There were 15 spots in the Tournament of Champions. Chicago currency trader, Jacob, secured one of them in the springtime when he won six straight matches bagging $149,802 in the process. He won a further $250,000 thanks to his 'dominant display' in the final, and promised to spend the money on a nice honeymoon.
His final question was: His last name means a type of burial place & in 1855 that's where he went.
Jacob, who by this time had an unassailable lead, wrote: "Who?…Thanks to everyone who works on the world's greatest game show!"
During his time as a pro poker player Jacob amassed $2.6m in live tournament earnings. The roll call included four World Series of Poker (WSOP) final tables, runner-up to Victor Ramdin in the 2006 World Poker Tour (WPT) Foxwoods Poker Classic, and victory in the 2006 United States Poker Championships in the Trump Taj Mahal, Atlantic City.
Former Bluff Chief Joins PocketFives
When Bluff called time on its operation in the summer, numerous high-quality media personnel were left wondering how they were going to pay the bills?
Lance Bradley was one of them. He needn't wonder any longer. Bluff's former vice president of content and editor-in-chief, has been appointed as the new president and editor-in-chief of the online poker community PocketFives.
According to an announcement on the PocketFives website, Bradley was hired to 'develop quality content for the company.' Bradley said that the first person to contact him after Bluff closed was the PocketFives co-founder Adam Small.
"After talking to him once, I knew it was where I was going to end up." Said Bradley.
Bradley spent eight years working at Bluff, and before that worked with Bodog, where he spent some of his time working in the role of Poker Room Manager.
Really happy to FINALLY be able to announce the new gig with @pocketfives https://t.co/rq19KXUvKs #SomethingAboutKarma

— Lance Bradley (@Lance_Bradley) November 19, 2015