Churchill Downs Inc.-owned Bluff Magazine is set to close operations within the next few days, following laying off its employees.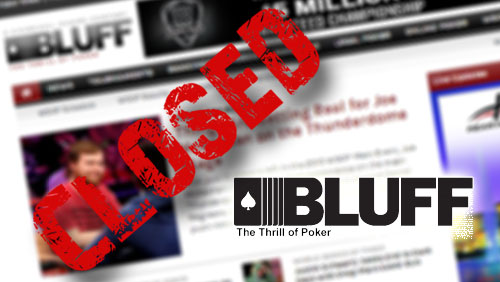 Bluff founder Eric Morris posted the news on his Twitter account confirming that Bluff Media has let go of the entire staff and the company will close on August 15th after more than a decade of operation.
"There were only four people left and I (originally) hired two of them," said Morris via his Facebook account in response to questions posed to him on Friday.
Bluff Editor-in-Chief Lance Bradley also confirmed the news through his Twitter account.
"Well, word is out. Been with BLUFF for 7.5 years and EIC for six. I'm very proud of the product we produced but more important than anything else, I'm proud of the people I've had the privilege of working with to make BLUFF what it was. So while I'm bound to leave a few names out, I want to thank those to whom I'll always be grateful," tweeted Bradley.
Bluff, founded by Morris and Eddy Kleid, began its edition as a bimonthly in October 2004 and went monthly in August 2005. The following year, Bluff Media purchased thepokerdb.com, an online tournament database.
Bluff was the first to take that event live in broadcasting the tournament on Sirius XM in 2005 and had contributors such as Antonio Esfandiari writing about a night on the town in whatever city he was in for a poker tournament.
Churchill Downs Inc. (CDI) acquired all assets of Bluff Media including BLUFF Magazine; BLUFF Magazine's online counterpart, BluffMagazine.com; and thePokerDB in February 2012, potentially providing CDI with new business avenues once state and federal laws in online poker and igaming liberalized in the United States.But progress on the U.S. regulated online gambling front was slower than anticipated, which decreased both the value and the operational resources provided to Bluff.
The terms of the sale were not publicly disclosed, but Churchill is thought to have paid mid-seven figures for the property.
The news followed Bluff's decision to roll its digital format in January, removing the monthly print edition. Bluff and Churchill Downs are expected to make an official announcement in the coming days.
It's still unclear if the closing of Bluff will also have an effect on editions published in Europe, Latin America, South Africa and Australasia, which are understood to be licensees of the Bluff brand but not directly connected to the U.S. operation.