BLUFF have decided that the February issue of their print magazine will be their last, as they roll out a 100% digital format in the forthcoming months.
BLUFF's print magazine is heading the way of the Dodo. It's a shame. Sadly, it's progress. It's inevitable, and a sign of the times. Technology is a wonderful thing, but a physical copy of a magazine is something else. The touch, the feel, the ability to roll it up and use it as a devastating weapon.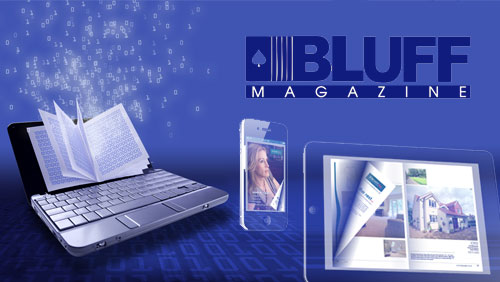 On Sunday, I went to the local casino to play in the £35 Freezeout event. There were copies of BLUFF magazine strewn all over the place. Everyone was reading a copy. It was their way in. A perfect way to stay current whilst drinking a cup of cold tea, talking nonsense, and folding their hands.
After February that will be all gone. But as Lance Bradley, Vice President of Content, explains – the view needs to change to one of excitement.
"The way our readership enjoys our content has changed and this really allows us to reach more of our target audience where the numbers show they're reading us – via mobile devices and online.
"We will still produce the same features. We looked at Grantland as a content delivery model that would appeal to our readers and we believe that we can eventually become that for poker, producing more long-form and fun content than ever."
It's a sensible approach. People are using mobiles and tablet's to read the news, and costs will reduce considerably, thus helping people stay employed for longer. I'm all for that.
BLUFF Media was acquired by the Kentucky racetrack Churchill Downs Inc. back in 2012, and in the Autumn of 2014, they strengthened their bond with the North American poker community, with a deal that saw them become the media partners of choice for the up and coming Heartland Poker Tour (HPT).
"Since its inception, BLUFF has been about making the game of poker more accessible for players around the world," said Eddy Kleid, BLUFF President. "Focusing on ways to put more content in front of more poker players really is about honoring that legacy."
European readers are to take note that this decision doesn't affect the BLUFF Europe print magazine that we see in land-based casinos in the European market.