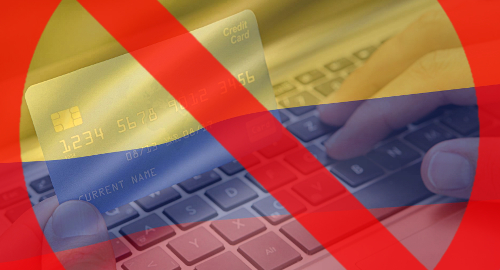 Colombia plans to impose payment-blocking measures against internationally licensed online gambling sites serving local punters.
On Tuesday, Juan B. Pérez Hidalgo, president of Colombia's gaming regulatory agency Coljuegos, gave a presentation as part of the annual Event of Accountability at the Ministry of Finance. Hidalgo told the audience that the regulator planned to "step up actions against illegal games of chance."
Hidalgo went on to say that the regulator planned to "intensify controls and we will seek the tools that the law allows us to reach people who are literally stealing resources for the health of Colombians."
Colombia became the first South American jurisdiction to formally legalize and regulate online gambling last October. This March, Coljuegos awarded its first online license to local operator Wplay.co and international operators such as Sportium expect to launch before the year is through.
Coljuegos also rolled out an online gambling blacklist this spring and, while some of the blacklisted sites left the market voluntarily, the regulator is working with local internet service providers to ensure more stubborn operators are shown the door.
However, Coljuegos' VP of operations Luis Alfredo Gomez said on Tuesday that the regulator was experiencing "technical difficulties" in realizing its domain-blocking goals, a not uncommon problem that the experience of other ban-happy regulators should have served as a guide for Colombia.
As a result of these technical shortcomings, Hidalgo said the regulator was now "holding meetings with the financial sector" regarding Colombian-facing internationally licensed gambling sites' "access to payment gateways." Gomez added that payment-blocking "will help us be a lot more effective in this fight."
Coljuegos remitted slightly more than COP 500b (US $169.5m) to the country's health care services in the 12 months ending June 30, a 27% increase over its contributions in the previous 12-month period. Coljuegos plans to issue a full report on its past performance and future plans next week.
Comments