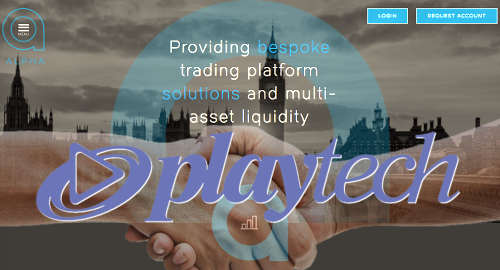 Gambling technology provider Playtech has bolstered its financial services division via the acquisition of assets from ACM Group Limited.
On Wednesday, Playtech announced that it had reached a deal to acquire "technology, intellectual property and certain customer assets" of UK-based ACM (aka Alpha), a "B2B market maker, dealer and broker focused on delivering bespoke risk management and trading services to institutional and professional clients."
The deal requires Playtech to make an initial upfront payment of $5m, plus two staged payments based on 1x EBITDA of 2017 and 2018, as well as a contingent consideration of 5.2x 2019 EBITDA, minus the other payments. The total consideration will be capped at $150m. Playtech expects the deal to be concluded by September 30, 2017.
The ACM assets being acquired include a portfolio of international B2B clients, proprietary trading technology, and the institutional-focused Alpha Pro trading platform. About 20 UK-based members of ACM's trading, risk, dealing and biz-dev teams will accompany the transferred assets to their new Playtech home.
These 20 staffers are expected to deepen Playtech's offering to professional and wealthy traders via the launch of a new "high net-worth professional brand" that will be dubbed MarketsPro.
Playtech also announced that it will rebrand its financials division as TradeTech Group to better reflect the division's full capabilities and to align brand recognition throughout the financial industry. In keeping with this switch, the newly acquired ACM assets will operate under the TradeTech Alpha brand.
The new brands will join the other assets in Playtech's financials division, which include the contracts for difference and foreign exchange platforms of Markets.com, and Consolidated Financial Holdings' brokerage technology.
TradeTech Group CEO Ron Hoffman called the ACM/Alpha deal "a significant step in the evolution of TradeTech" that will allow the financials division to offer "a full turnkey solution to B2B clients across the industry."
Playtech will release its Q2 report card on Thursday.
Comments