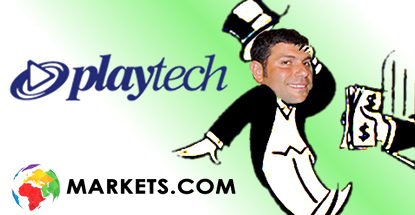 Online gambling technology provider Playtech has acquired yet another company controlled by founder and largest shareholder Teddy Sagi (pictured).
Playtech has been sitting on a mountain of ready cash for eons now, and speculation on acquisition targets included the struggling Bwin.party digital entertainment. Instead, Playtech has opted to acquire binary options and contract for difference (CFD) trading outfit TradeFX, which trades in over 100 countries under the Markets.com brand and features the popular MetaTrader 4 platform.
Playtech has agreed to pay €208m upfront for a 91.1% stake in TradeFX, with a further payment of up to €250m should TradeFX hit certain performance targets by 2017.
Playtech said the acquisition would be "immediately and significantly earnings enhancing" and fit well with Playtech's strategy of acquiring "profitable, regulated, highly cash generative businesses with market-leading positions." Playtech CEO Mor Weizer added that TradeFX's present management team "has a strong cultural fit with our business and is incentivized to stay with the enlarged Group."
Weizer told Reuters that Playtech would offer TradeFX's trading platform to "all of Playtech's licensees and other gaming companies, given the fact that the trading platform is complementary to gaming companies' operations."
Sagi, who holds a one-third stake in Playtech, holds an 86.5% stake in TradeFX. Sagi has made a small fortune selling his other business ventures to the technology provider over the years. Playtech's recent non-Sagi acquisitions (Aristocrat Lotteries, Yoyo Games) have been miniscule in comparison to the nine-figure deals the firm has made for Sagi companies.
Previous Sagi deals have proved positive for Playtech shareholders and Playtech shares closed Thursday's trading up 2.4% to 795p. Still, the company's seeming inability to look too far beyond Sagi's portfolio for acquisitions will raise further questions regarding the independence of its board.