Lee Davy continues his poker routines column with a look at the habits of the former Irish Open Champion, and Unibet Ambassador, Ian Simpson.
With close to a million bucks in live tournament earnings on his Hendon Mob resume, an Irish Open championship in the vault, and an ambassadorial position with one of the brightest online poker rooms in the world: Unibet, it's time to see what goes on underneath the poker hood of Ian Simpson.
When did your aspirations to become a poker player begin?
"I learned the game when I was around five years old when my dad taught me on a rainy day in the Lake District. But I guess it was once I saw poker on TV  that I started having a hunger for the game and wanting it to be a big part of my life." 
How do you spend the first hour when you wake up? 
"Suffering! I am not good when I first wake up! It takes me a while to get going. Coffee and breakfast is a must before I can even begin to resemble a useful human!"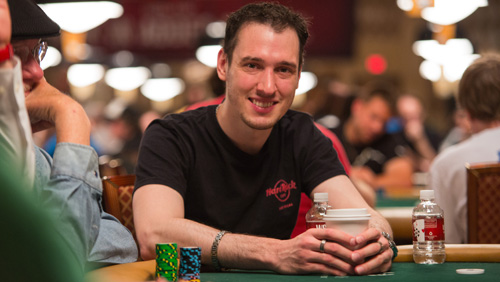 What time of the day do you find it easier to play poker and why? 
"Anytime except when I've first woken up really! After that as long as I've slept well and am fed I'm rearing to go!" 
Do you have defined goals for how many hands/sessions you play in a week: both live and online? 
"I've just started my Twitch channel in association with Unibet who have sponsored me. Part of that contract is twitching four times a week. As for live, I'm playing less now that I'm having so much fun on my twitch channel but I still make time for live poker when I can. The Unibet UK tour and the Unibet Opens mean I get to have at least nine trips away in the year to play live poker." 
Where do you play online, what types of games, and stakes? 
"Almost exclusively on Unibet now! Mostly tournaments and Sit n Gos. I'm typically playing buy-ins ranging from €10 – €100 (and the occasional freeroll on a Wednesday when I'm a bounty!)." 
Same question for live? 
"I play all over! The Unibet Open changes its venues every year which is awesome for seeing new cities. I'm particularly looking forward to the Bucharest leg of the tour at the start of December, I only saw a small amount of the city when I was last there, but I loved what I saw and hope to see more of it next time!." 
Do you have a specific routine that you go through before you begin an online poker session? 
"I think it's really important to be prepared for an online session. Personally, I'll make sure I've eaten well and drank plenty of fluids to keep the brain working and work in a nap if I've got time/haven't slept well. I'll often make a sandwich before the grind that I can just grab mid-session.  Ideally, its good to be prepared ahead of time so you don't feel like you're in a rush. I also like to do something relaxing pre-grind if I get the chance, go for a walk or just relax with a good TV show." 
When you first sit down to play poker how do you begin? 
"I try to start assessing my opponents right from the start. This is much easier live as there is so much more information available to you and unlike online you're only up against eight other players, whereas online if you're multi-tabling it's much harder to keep track of who is up to what!"  
Describe your grinding station set up. 
"I've got a good sized desk with two monitors on it. My main monitor is a big beast, but I set up my old smaller monitor to have off to the side to display the various programmes I use while twitching. There's a cat tree just behind me so my two cats, Alfie and Bertie, can come and join the grind. They're great company especially when they make me laugh." 
What tools do you use when playing poker, live and online? 
"Unibet doesn't allow any tracking software so none! I used to use PT4 though."  
What're your thoughts on listening to music when playing? If you do, what do you listen to? 
"I can't play without music. I use music to help regulate my emotions. If I am feeling withered from a tough session, I'll make sure to delve into my feel good louder and faster music to get me pumped back up. I also use more relaxing music for the opposite effect when I need it! I listen to all sorts of stuff. From Rage Against the Machine, Radiohead, Green Day, Adele, David Bowie." 
What system do you use for taking notes on your opponent's, live and online? 
"Just my memory! Unibet is unique in that you can change your alias up to five times a day so you can be as anonymous as you like, so for that reason, there is no note taking system there. On clients where there is I try to use shorthand as much as possible since its hard to find time to type up in depth notes and play multiple tables all at once.  
"As for live I just rely on my memory. Are they loose or tight? Do they play garbage starting hands? Do they give away information from their bet sizes?" 
Do you have a specific warm down routine after you have finished a session? 
"Sleep is so important, and after a session, I find it very hard to get to sleep sometimes. I've recently taken to watching David Attenborough as his voice is so melodic and I love nature. But his shows usually aren't adrenaline pumping action, so they're good for a wind-down. I remember watching Game of Thrones after one session and having to stay up later and watch something light hearted after something terrible happened to one of my favourite characters!"  
What do you do on the hour every hour when playing online? 
"Usually pee, wash my hands and then get my snacks!" 
What do you do during the break of a live event? 
"Same as online! Except I usually have to hear a few bad beat stories as well."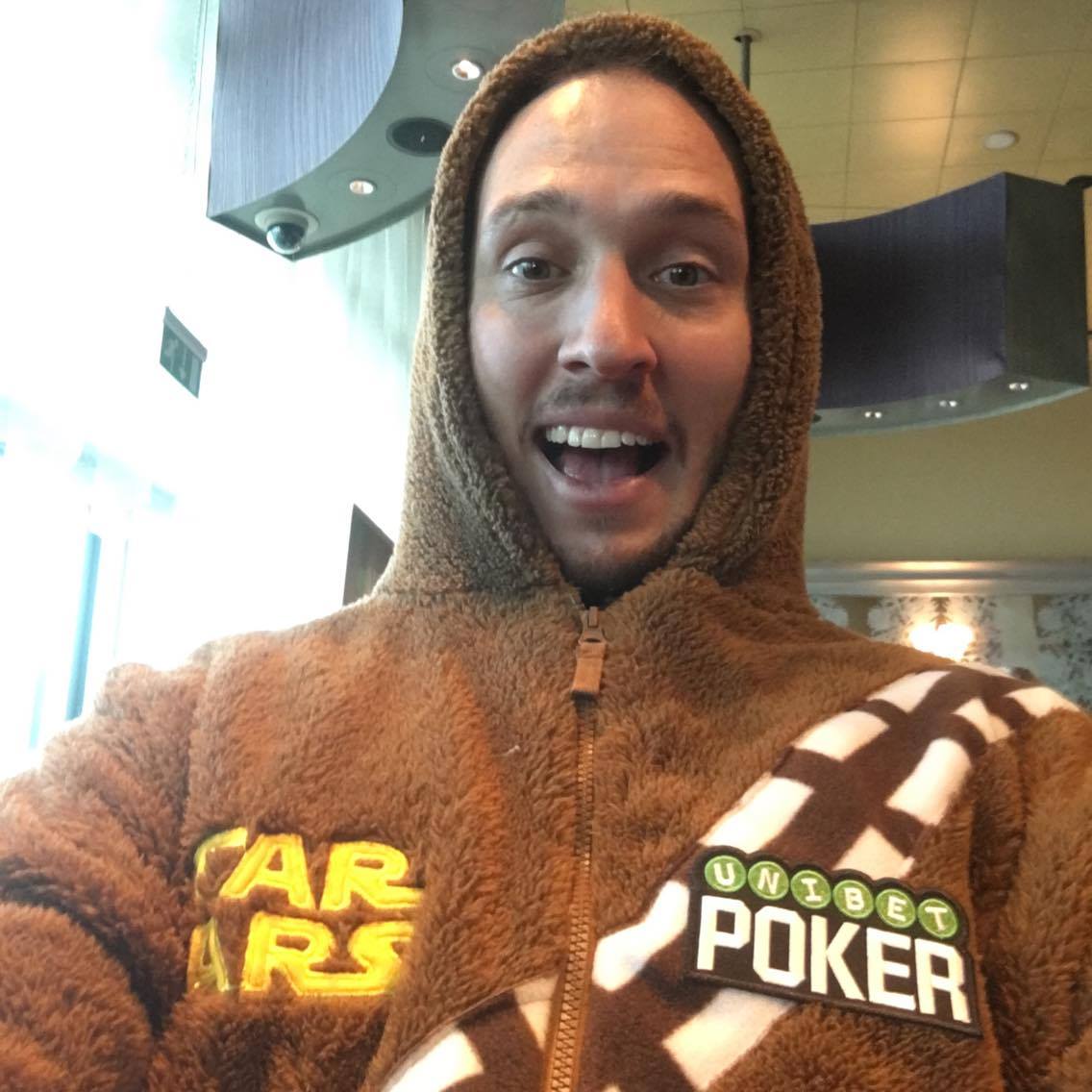 What do you eat and drink when you play, both live and online? 
"I try to keep my diet varied; I love food! The brain's main source of fuel is glucose, but if we eat pure sugar that isn't exactly ideal! I make sure I eat carbohydrates from which our bodies can derive glucose, so my brain has the energy it needs to do its thing. I also try to eat plenty of fruit and veg for my general well being.  
"As for drink, if I find myself crashing towards the end of a session I will resort to a full sugar coke for the caffeine and sugar to see me through, but this will stop me sleeping, so I typically only do it if the stakes are high and I'm not playing the next day. Otherwise, anything sugar-free does the job." 
What is your process of review? How do you educate yourself about poker? 
"To review the hands I play I've got a few good chat groups with other serious players that I can run the hands past to see if there is a better line to take in any given situation. This is a big part of the learning curve of poker, learning to see other people's takes on hands and absorb knowledge from your fellow players. I also love to read, so I've got lots of poker books on my shelf. I'm currently reading Ed Millers "Playing the Player." 
How do you improve your mental state? 
"This is probably a lot of poker players' biggest challenge. As far as bad beats go, you've just got to accept that it's part of the game. The game wouldn't exist if the best hand won every time and you need to understand that variance will even out if you play enough. Aside from that, it's important to get balance in your life. I try my best to make sure to have plenty of quality time with my wife, my friends and my family although it isn't always easy given how hard everyone has to work nowadays to get by." 
How much of your time is spent playing versus learning? 
"This varies every week for me. I should probably work on being in a better routine for it!" 
How do you know when to stop a session? 
"There are lots of reasons to stop. If you find yourself tilting or tired then end your session asap." 
Are you consciously trying to emulate the style of a particular player? Do you have people you look to as models for your game? 
"When I was a teacher a colleague of mine gave me some good advice. He told me to take the positive from all of your colleagues and leave out the negative. I wouldn't say there's just one player I emulate, there are so many strategies for winning in poker, and I think it's important to try and absorb information and techniques from multiple sources and incorporate whatever works for you into your own game." 
Is poker easy? Does it come naturally to you? 
"Poker ain't easy! It's an incredibly complex mathematical problem that still hasn't been solved yet, and that's ignoring the complex psychological side of the game!" 
What is your favourite moment in poker? 
"When that deuce of diamonds landed on the river, to give me a backdoor flush and win the Irish Poker Open in 2013. I'd had the engagement ring to give to my now wife the entire time I was at the FT. As soon as that card hit the river, my brain said to me "I've just won the Irish Open, and now I'm going to propose to Emma!" 
What books have helped improve your game (doesn't have to be a poker book)? 
"Harrington on Hold Em was a great start to my learning all those years ago. More recently Moorman's Book of Poker, Pokers 1% by Ed Miller and Reading Poker Tells by Zachary Ellwood have all been great contributors to my game." 
Do your surroundings affect your work, how? 
"Absolutely! I'm much more at ease when I've taken the time to de-clutter my desk and tidy my man cave!" 
Was there ever a time when you didn't want to play poker? How did you get out of the funk? 
"Oh, I've quit millions of times! A day or two off usually sorts me right out, and I'm raring to go again! 
What WSOP routines do you have?
"Pretty similar to what I've talked about earlier about my live routines. I like to do plenty of study before making the trip out to Vegas, and while I'm there, I do try my best to eat well and take days off as appropriate. But this year I'm missing the WSOP to build my Twitch stream, twitch.tv/iansimpsonpoker and spend time at home with the wife. 3-4 weeks of being away from her is always tough on both of us, so I think it's healthy to take a year away from it and come back all the hungrier next year!" 
What is the one thing you know you have to change after answering these questions?
"I need to improve my routines so that I'm studying regularly instead of intermittently." 
Comments