Unibet sign Ian Simpson, Dara O'Kearney and Dave Lappin as brand ambassadors. Is Viktor Blom next in line?
So Wayne Rooney might be off to China to become the highest paid footballer in the world.
Who cares?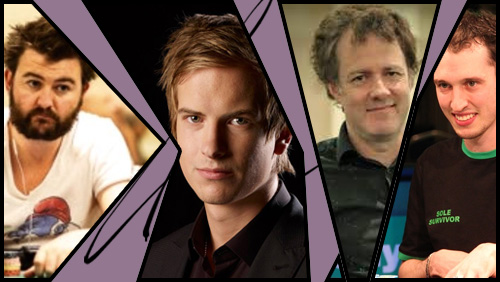 The biggest transfer story in world sport has to be the potential marriage between the Kindred Group's Unibet Poker and online cash game legend Viktor 'Isildur1' Blom.
The pair has had a grope and a feel in the past. Blom competed on behalf of the brand in a Live Cash Game two years ago, and he will also make an appearance at Unibet Open London this week where he will try his arm at eSports.
So when is Unibet going to get down on one knee?
"We're talking about ways we could work together in the future, possibly in an ambassadorial role," said Unibet's Senior Marketing Strategy Manager David Pomroy. "I think it's important that any deal Viktor takes (whether it's with Unibet or any other site) is something that he feels comfortable with and lets him do the things he wants to do.

 "I don't think many people have ever got to see the real Viktor Blom and because he's such a well-known player I think it's easy for sites to fall into the trap of thinking, 'let's just get a famous player to talk about our brand'. If we do end up working together on a more official basis, then we'd like to give him the freedom to decide exactly what kind of content he creates."

 We will have to wait and see if Blom accepts the ring that is now flashing before his eyes, but three British stars have already tied the knot.
Former Irish Open winner Ian Simpson, and Irish duo Dara O'Kearney and Dave Lappin have joined as ambassadors ahead of Unibet Open London. I asked Pomroy a few questions about those signings, and this is what he had to say.
How long have you hired the three of them for?
 "A year to begin with but I imagine (and hope) that we go well beyond that."
 What are you looking for when you hire an ambassador?
 "We have been very selective in who we work with – we have a certain philosophy and paramount to that is making poker accessible and attractive to potential new players, as well as players who might have fallen out of love with the game. A Unibet ambassador has to be someone who genuinely believes in what we are trying to do and holds the same vision as us, and luckily we found that in each of the ambassadors we've partnered with."
 What value do you believe they offer?
 "Dara, David and Ian are highly-respected in the UK poker scene and feel like a perfect fit for us. We'll look to develop a podcast with Dara and David and feel we can create a lot of content which will appeal to players looking to improve their games. Ian and David will be streaming regularly on Twitch, and all three will be attending Unibet events and getting involved with qualifiers. Ian also has a strong teaching background, and we're looking to create a lot of tutorial content which again will help players looking to take another step on the poker ladder. All of the ambassadors are genuinely personable, and we think they'll add a lot to the 'feel-good' around Unibet events."

 What are their roles and responsibilities?
 "They vary from player to player, depending on each player's profile and what they are passionate about. The plan is to grow each player's profile and Unibet Poker's profile together, and the best way to do that will be to focus on creating content that the ambassador feels passionate about. Broadly speaking, it'll involve Twitch streaming, podcasts, blogging and vlogging, taking part in Unibet Poker events, creating social media and digital content and representing Unibet Poker with their day to day conduct. The benefit of working with players who share the same philosophy and who are genuinely good people is that we never have to ask them to say or do anything. Nobody should ever be made to feel that they are a 'mouthpiece' of the company, and that's never something we'll ask them to do."

 How important is social media reach and Twitch involvement?
 "Social media reach is important and Twitch especially so. As a poker site, we want to start creating a LOT more content, and hopefully content that is slightly different from the norm. The onus isn't necessarily on an individual ambassador's social reach at the start of the deal – for instance, Espen Jorstad has only been streaming for 6 months and doesn't have a huge social media reach at the moment, but we're firmly of the belief that with the right support and resources behind him he has the natural ability to become a hugely popular streamer. The plan is to create innovative content and grow each ambassador's profile, and if we succeed and players enjoy what they see then Unibet Poker can only benefit from that."

Simpson, O'Kearney, and Lappin are the eighth ambassadors to join Unibet with a strong focus on a British flavour.
– Dara O'Kearney
– David Lappin
– Ian Simpson
– Espen Jorstad (Norwegian)
– Charlotte van Brabander (Belgian)
– David Vanderheyden (Belgian)
– Dan Murarui (Romanian)
– Sam Grafton (UK)
Will a certain Swede be joining them?
Watch this space.