Japanese casino mogul Kazuo Okada is out to prove that blood isn't thicker than water as he attempts to regain control of his sprawling business empire.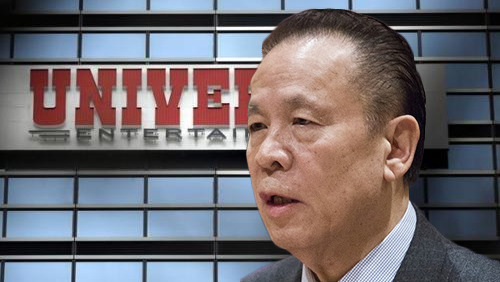 Channel News Asia reported that Okada sued his son, daughter, and wife in Hong Kong after his family started a boardroom coup that resulted in his ouster from Tokyo-listed gambling firm Universal Entertainment Corp. He also included Universal as a respondent in the case.
The report, however, didn't mention the grounds of the lawsuit, which Okada filed against his wife Takako, his son Tomohiro, and his daughter Hiromi. But in an earlier interview with Reuters, Okada said the lawsuit against his family is his way to take control of Okada Holdings Ltd., which is the majority owner of Universal.
It would be recalled that Tomohiro and Hiromi, who hold a combined majority in Okada Holdings shares, led the boardroom coup against the septuagenarian billionaire. Records from the Hong Kong Stock Exchange show that the Japanese patriarch resigned from the company.
According to Okada, he hasn't seen his son Tomohiro in two years and does not know his daughter Hiromi's current whereabouts.
"Unless I sue there will be no opportunity to talk. The reality is I am in a losing position in terms of voting rights," said Okada, who hoped that the court will order a negotiated settlement that would restore his position at Okada Holdings.
Reuters earlier reported that family feud was the root cause of Okada's ouster from the Hong Kong-based firm. According to Okada, he was blindsided when he was dropped as Okada Holdings' director on May 18.
Okada, however, hasn't closed the doors of reconciliation with his children. He believes that the animosity of his son toward him started after the latter believed that he was not being paid dividends from Universal commensurate with his 43.5 percent stake in Okada Holdings.
The patriarch vowed to investigate the matter.
As for his wife, Okada said that he could not forgive her for agreeing to be reappointed to Universal's board. The company said Thursday that Takako would take on responsibility for Okada's art museum and advise the company on its overseas business.
Okada also blasted Universal President Jun Fujimoto for attempting to seize control of the company Okada founded five decades ago. Fujimoto had accused Okada of being 'unfit' to be the company's leader in a letter circulated during the company's shareholders meeting last week.
"I made Fujimoto president. Now he wants to take over," according to Okada.
Four weeks ago, Universal informed the Japan Association of Securities Dealers Automated Quotation (Jasdaq) that the firm had suspended the leadership of Okada and Yoshinao Negishi, director and general manager of Universal's Administrative Division pending the ongoing investigation.
According to Universal, there is a possibility that Okada and Negishi committed fraudulent acts when a loan amounting to HKD135-million ($17.3-million) was transferred to a third party from Tiger Asia Resort, Ltd on March 20, 2015.
Universal recently uncovered two more suspected anomalous business dealings of Okada.
Comments