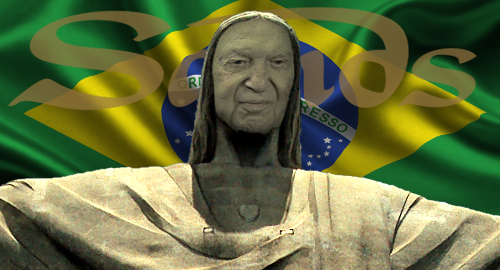 Las Vegas Sands boss Sheldon Adelson recently made a trip to Brazil to pitch an $8b casino project to the mayor of Rio de Janeiro.
On Wednesday, Brazilian media outlet O Globo reported that Adelson (pictured, going native) and members of a Sands scouting party had popped in on Rio's Mayor Marcelo Crivella, who claimed the reliably cranky billionaire was in town to discuss "tourism."
The subterfuge regarding Adelson's visit is necessary because Brazil has yet to legalize casino gambling. Despite years of negotiations, two competing gambling expansion bills in the Chamber of Deputies and the Senate have yet to be merged, as the Senate bill remains stuck in committee.
Adelson has long spoken of Brazil as a country Sands was eyeing, calling the country a "potentially very good opportunity" during Sands' Q4 2015 earnings call, although he expressed some reservations regarding the country's economy. Adelson reportedly told Crivella that Rio needed some infrastructure upgrades, including more 4- and 5-star hotels.
Adelson isn't alone in scoping out Rio locations for potential casino sites. O Globo reported that MGM Resorts CEO James Murren, Caesars Entertainment's Jan Jones, as well as emissaries from US regional casino operator Red Rock Resorts, Portugal's Estoril del Sol, and Casinos Austria all recently held grip-and-grin sessions with local officials.
While Adelson is but one of many suitors for a land-based casino license, he is likely the most (in)famous, largely due to his enormous wealth and reputation for political meddling. As such, it's at least theoretically possible that he could end up influencing the final makeup of Brazil's gambling expansion plans.
That could spell trouble for Brazil's online gamblers, as the unresolved gambling expansion bills include – for the moment – vaguely defined versions of online gambling. In case you've been in cold storage for the past three years, Adelson hates online gambling almost as much as Donald Trump hates nosey FBI directors, and online gambling is already one of the more contentious aspects of Brazil's expansion plans.
O Globo reported that Adelson was scheduled to meet Brazilian President Michel Temer for lunch on Wednesday. Adelson's agenda reportedly also includes meetings at the Senate and two government ministries. Can a Restore (South) America's Wire Act be far behind?
Comments