Well, that didn't last long.
First enemies, then friends, casino billionaire Sheldon Adelson and President Donald Trump are now back to being frenemies.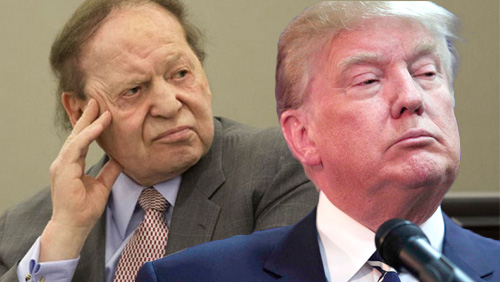 Haaretz reported that the cracks began to form in Adelson and Trump's unholy alliance when the latter snubbed the casino billionaire's recommendations for top administration posts in the White House.
Adelson, who donated tens of millions of dollars to Trump's presidential campaign kitty and another $5 million to the President's inaugural celebration, was displeased over the fact that his people were not hired by Trump's White House.
He ate his pride and decided to stick with Trump since the latter promised to move the American embassy in Israel to Jerusalem. Trump's promise was repeated over and over again in his presidential campaign.
But Trump's promise never came to fruition. In fact, the US president has taken a much more cautious approach and has not repeated his commitment to move the embassy. This, according to three sources close to Adelson, was the final straw for the casino mogul.
They say Adelson was now "angry and disappointed." The money that once flowed freely out of Adelson's pocket for Trump's projects has suddenly dried up, according to the report.
The report mentioned that "in what some Republicans are interpreting as a sign of his frustration, Adelson has yet to give money to any of the pro-Trump outside groups set up to boost the president's agenda."
Is the Adelson-Trump relationship headed for a break-up? Only time can tell. It hangs in a balance until Trump makes good of his promise to move the embassy in Israel.
But with Vice President Mike Pence insinuating to the American Israel Public Affairs Committee conference that the embassy move is becoming more of an option than a promise, the once perfect alliance is now going down the drain.