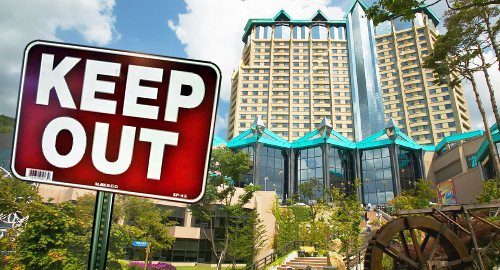 American casino industry groups are pleading with congressional leaders not to purge problem gambling support funds from President Donald Trump's health care plan.
Earlier this month, the heads of the American Gaming Association (AGA), National Indian Gaming Association (NIGA) and the Association of Gaming Equipment Manufacturers (AGEM) sent a joint letter begging Washington pols to "recognize gambling disorders as a public health issue that merits inclusion" in whatever version of Trumpcare replaces the Affordable Care Act (ACA) aka Obamacare.
The letter, which was also signed by the exec director of the National Council on Problem Gambling (NCPG), notes that gambling disorders were covered under the ACA's 'mental health and substance use disorders' and 'behavioral health treatment' categories, in keeping with the American Psychiatric Association's recognition of gambling disorders as a diagnosable condition in the DSM-5.
The letter's signatories believe this recognition is critical for enabling adequate funding for research as well as ensuring that the necessary resources and treatment facilities are available to problem gamblers seeking help in dealing with their issues.
Trumpcare, aka the American Health Care Act (AHCA), was scheduled for a vote in the House of Representatives on Thursday but the vote was called off late in the day after Republican leaders realized they didn't have sufficient support from the extreme right wing of their own party to ensure the bill's passage.
SOUTH KOREA PAYING PROBLEM GAMBLERS NOT TO GAMBLE
Problem gambling mitigation efforts take many forms, including pre-commitment technology, self-exclusion programs, pharmaceutical intervention and playing Tetris, but a new program in South Korea offers problem gamblers financial incentives for staying on the straight and narrow.
The Kangwon Land Addiction Care Center (KLACC), which is run by the Kangwon Land casino, the only gaming venue in which South Koreans are allowed to gamble, is testing a new program that pays problem gamblers KRW 50k (US$44.50) every day that they manage to avoid setting foot on the casino's gaming floor.
The program has signed up an initial 30 participants, each of whom reported more than 60 visits to Kangwon Land in the past year. Kangwon Land restricts locals from visiting the casino more than 15 times per month, and around 70% of participants signed up for a plan that limits their visits to just five times per month.
A KLACC official told Korea Bizwire that the new program had received a "great reaction" from participants and the researchers hope to reorient the general approach to problem gambling treatment "by choice rather than by force." The KLACC recently hosted delegations from both Japan and Singapore looking to study the program.
Kangwon Land generates more annual revenue than South Korea's 16 foreigner-only casinos combined but it has come under heavy criticism over the past year for not doing enough to mitigate problem gambling behavior. Last October, the casino announced new 'cooling off' measures to deal with individuals who don't know when to say when.
Comments