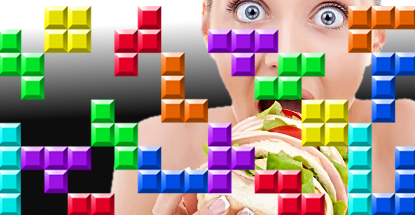 Gaming technology firm Scientific Games has inked a deal to bring the classic video game Tetris to the casino floor.
Last month, Sci-Games and The Tetris Company announced a deal to develop Tetris-branded slot machines for future distribution to Sci-Games' casino partners. It remains to be seen how much of Tetris' traditional game play will be incorporated into the new slots for Sci-Games' Nevada partners, given the state's recent approval of arcade-style slot machines.
Maya Rogers, CEO of Blue Planet Software, which acts as the exclusive agent for The Tetris Company, said the deal was a natural, considering Tetris has been made available for "every platform that has been in demand by gamers across the globe."
Anyone who has ever played Tetris since its mid-1980s debut knows how addictive its simple interface can prove. Which is why it's so ironic that a new medical study suggests Tetris could play a role in curbing other addicting behaviors.
Researchers at the UK's University of Plymouth and Australia's Queensland University of Technology published a study this month in the journal Addictive Behaviors that suggests the mere act of playing Tetris for just a few minutes can significantly reduce cravings for all sorts of forbidden fruit.
The study involved 24 females and seven males between the ages of 18 to 27 years. They were divided into two groups, with both groups receiving text messages seven times per day querying them about items they had previously described craving, such as food, coffee, cigarettes, alcohol, sexual intercourse and video games.
The participants were asked whether they had indulged in the item they craved and whether they were currently craving anything (on a scale of 1 to 100). In addition to answering the text questions, one group was asked to play Tetris for three minutes, then to respond to the same questions a second time.
This second group reported a post-Tetris reduction in cravings ranging from 56% to 70%. This effect worked on all types of craving and was consistent throughout the weeklong study period, despite the participants playing Tetris an average of 40 times.
The University of Plymouth's Prof. John May called this latter phenomenon significant, because it suggested that this 'therapy' didn't depend on the activity being novel and unusual.
Another Plymouth researcher, Prof. Jackie Andrade, said the theory was that this 'Tetris effect' worked because craving "involves imagining the experience of consuming a particular substance or indulging in a particular activity." The visual stimulation Tetris provides "occupies the mental processes that supports that imagery; it is hard to imagine something vividly and play Tetris at the same time."
The researchers say more study is required but hopes are high that games like Tetris could become a component of therapy to wean people off their addictions. This is the third study this month to suggest that non-monetary gaming activity could play a role in mitigating addictive behavior, with another Queensland group and Southern Cross University researchers finding similar effects in social casino players.