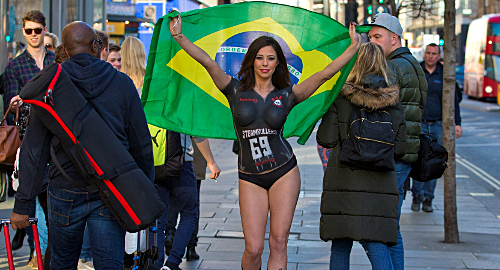 Online gambling brand Bodog has signed a shirt sponsorship deal with Brazilian footballers Corinthians Steamrollers.
On Monday, Bodog announced a pact with the Sao Paolo-based Steamrollers, who play American-style football in the São Paulo Football League of the Confederação Brasileira de Futebol Americano, and are an offshoot of powerhouse football/soccer powerhouse Sports Club Corinthians Paulista. Terms and duration of the deal weren't disclosed.
The Corinthians' tie-up is a natural fit for Bodog, which recently announced a major expansion into Latin America. Bodog brand PR director Ed Pownall said he wouldn't pretend that the company "knew much about the Steamrollers when we launched in the region, but the Corinthian brand and the American football angle seemed like a good fit for us."
Corinthians Steamrollers president Ricardo Trigo said it was "great to see new brands coming into the sports" and hoped that Bodog's international presence "can help both the Steamrollers and the sport grow further in the region and beyond."
The sponsorship deal was accompanied by a typically saucy promotional pitch featuring model Pascal Craymer of popular UK 'scripted reality' drama The Only Way Is Essex fame. Craymer (pictured) managed to turn a few heads sashaying down the high street in Corinthians-themed bodypaint waving a Brazilian flag.
Meanwhile, Brazilian politicians continue to struggle to pass their country's new gambling regulatory overhaul, with two competing pieces of legislation mired in political limbo for years now, in part due to the corruption scandals that have plagued top government leaders.
The most recent legislative activity saw the Chamber of Deputies schedule a debate on its 442/91 bill in February, only to suspend the session due to the lack of a quorum. There are no debates or votes scheduled in either legislative chamber at present.
The legislative paralysis contributed to the cancellation of a sponsorship deal with the soccer version of Corinthians last year. Winnerplay.net had inked a three-year deal with the team in January 2016, based on their belief that gambling legislation approval was imminent. The deal unraveled last August, with the team saying the gambling site had "made a business plan predicting variables that did not occur."
Comments