Pennsylvania's regulated online gambling hopes and fears were front and center in the state legislature on Tuesday.
Tuesday saw a joint hearing of the Pennsylvania House Gaming Oversight Committee and the Senate Community, Economic and Recreational Development Committee, as legislators met to discuss potential gambling expansion in the state, including online gambling and daily fantasy sports.
The contentious issue of allowing video gaming terminals (VGT) in bars and clubs, which has derailed the state's gambling expansion bills in the past, was explicitly off the table during Tuesday's hearing. A separate hearing will be conducted later this month at which the VGT issue will rear its ugly head.
Shortly before the hearing, the state Senate dropped a new gambling expansion bill. SB 477 is a duplicate of the omnibus gaming bill introduced in the state House last month.
Most of Tuesday's testimony was familiar to anyone who's followed previous events of this type. Casinos with online ops in New Jersey talked up how their sites were attracting new customers that hadn't previously visited brick-and-mortar (B&M) facilities. The geolocation peeps talked up their ability to pinpoint that your left butt cheek is within the state's borders but the right cheek is out of bounds. And so forth.
PARX SCARED OF BEING EATEN ALIVE BY CANNIBALS
The day's big news was the emphatically anti-online stance taken by one of the state's leading casinos, Greenwood Gaming and Entertainment's Parx Casino, despite the fact that Parx currently runs a free-play online casino and chairman Bob Green – who was in attendance – once described online gambling as the next logical step in the state's gambling evolution.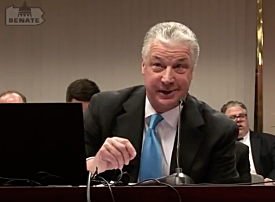 Parx CEO Anthony Ricci (pictured right) delivered a steady drumbeat of doom on Tuesday, predicting cannibalization of B&M casino revenue and a resulting shortfall in the state's share of tax revenue. Ricci claimed that the Parx's poker room suffered a 20% drop in action the same day New Jersey's online market launched.
Ricci also claimed, without citing evidence and in direct contradiction to earlier testimony from Caesars Entertainment's David Satz regarding Caesars' experience in New Jersey, that as much as 50% of online gambling revenue would come at the direct expense of B&M revenue.
Numerous witnesses pushed back against the cannibalization argument, quoting real world stats that showed the overwhelming majority of online gamblers in New Jersey weren't customers of B&M casinos before signing up with the sites, and those who were customers had increased their land-based spending by 15% after signing up online.
Representatives of Pennsylvania's Sugarhouse Casino, which launched a New Jersey online site last fall in tandem with the Golden Nugget and Rush Street Interactive, told the hearing that the casino's online gamblers were on average eight years younger than their B&M customers.
The Sugarhouse reps called online gambling a "unique opportunity" for Pennsylvania's casinos, noting that there were few marketing programs out there that are capable of both adding new players and generating more revenue from existing players.
TAX TALES
Parx CEO Ricci also claimed that the wide disparity between Pennsylvania's infamous 54% B&M slots tax and the 16% rate proposed for online gaming would incentivize profit-seeking casino operators to steer their customers to the online sites, thereby paying less tax to the state.
This same tax point was hammered home by two legislators in attendance: state Senators Lisa Boscola (pictured right) and Robert Tomlinson. It should be noted that Tomlinson represents the district in which the Parx resides, while Boscola's district contains Sands Bethlehem, whose owner Sheldon Adelson's anti-online sentiments are well established.
Many of the pro-online witnesses pushed back against this tax argument, noting that online gambling margins are much smaller than B&M margins, rendering moot any theoretical cost savings. Caesars' Satz went further, saying Boscola's tax argument "just doesn't have a basis in fact."
SHELDON'S SOCK PUPPET
No online gambling hearing is complete without the patented lunacy offered by the Adelson-financed Coalition to Stop Internet Gambling (CSIG). On hand to deliver CSIG talking points/alternative facts was former Nebraska deputy attorney general David Cookson, who refused to mention Adelson by name when queried by Rep Ed Neilson as to CSIG's funding.
In addition to claiming that the closure of five Atlantic City casinos since 2014 was a direct result of New Jersey launching online gambling, Cookson warned legislators that new Attorney General Jeff Sessions has pledged to "revisit" the 2011 Department of Justice opinion that paved the way for intrastate online gambling, and this "fluid situation" should cause legislators to tread lightly.
MONEY MAKES THE WORLD GO AROUND
Pennsylvania is desperately trying to close its budget deficit and is counting on gambling to fill at least part of the void. The state budgeted for $100m in new gambling revenue in last year's budget and a further $150m in the current campaign, without specifying the exact sources of those sums.
The Innovation Group's Paul Irvin offered legislators some projections on how much tax revenue the state could expect to reap from online gambling. Once mature, based on a 14.5% tax rate, Irvin believes Pennsylvania could pocket $60m per year in online gaming taxes, along with a potential $110m in the initial year from licensing fees.
The hearing clocked in at slightly over four hours, leading committee chair Senator Mario Scavello to call the issue of legislating online gambling a tougher slog than property tax reform. Scavello should rest up, as the legislature plans to hold its next joint hearing into the state's various gambling expansion proposals on March 20.