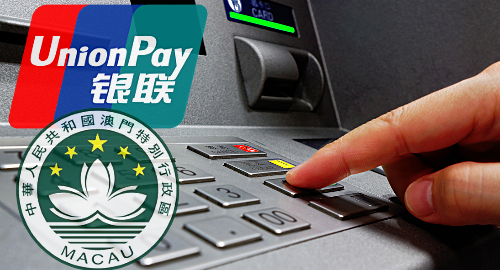 Macau casino operator stocks are taking a pounding on reports of plans to halve the amount that UnionPay bank card customers can withdraw from Macau's automated teller machines.
On Thursday, the South China Morning Post reported that the Monetary Authority of Macau planned to reduce the UnionPay daily withdrawal limit from MOP 10k (US $1,250) to just MOP 5k. The new limit is set to take effect this Saturday (10).
UnionPay card abuse in Macau has been a problem for years but this new restriction was reportedly sparked by some particularly brazen tactics. The SCMP quoted a source saying "individuals are turning up at ATM machines with stacks of cards from individual account holders and withdrawing MOP 10k a time," resulting in as much as MOP 10b ($1.25b) in withdrawals in just a single month.
UnionPay cards play a key role in helping mainland Chinese residents acquire gambling funds in Macau. A popular method involves using the card to purchase a luxury item at a Macau pawnshop, then selling the item back to the pawnbroker for cash, less a commission.
Other scams involved unauthorized UnionPay mobile terminals that were coded to register transactions as if they were taking place on the mainland. This July, Macau's Judiciary Police estimated that illegal UnionPay transactions in the world's top gambling hub would top $262m in 2016.
With China's foreign currency reserves falling, Beijing has been clamping down on UnionPay card abuse to staunch the flow of money off the mainland. As of January 2016, Beijing imposed a new annual withdrawal cap of RMB 100k ($14,500) for UnionPay card holders.
The new UnionPay restrictions come just one week after Macau's government proposed new currency declaration requirements. The proposal, which has yet to be enacted, would require all people entering or leaving Macau to formally declare cash or "negotiable monetary instruments" valued at MOP 120k ($15k) or more.
Macau casino operators saw their stocks take double-digit dives following the SCMP report, as investors fear the new curb could derail the Macau market's fledgling recovery from over two years of gaming revenue declines.
Las Vegas Sands is currently down nearly 13%, Wynn Resorts has fallen 11% while MGM Resorts is off a mere 4%, reflecting MGM's greater reliance on its domestic properties. Melco Crown Entertainment is down nearly 14% after sinking as low as 17% earlier in the day.
SANDS SINGAPORE POLICY UNDER SCRUTINY
Speaking of Sands, the company may find itself in Beijing's bad books due to a sketchy voucher policy at its Singapore property Marina Bay Sands that has reportedly led to billions of yuan flowing out of China into Sheldon Adelson's clutches.
The SCMP reported that Marina Bay Sands has enacted a scheme in which UnionPay cards can be used to purchase vouchers, which are then redeemable for casino chips. UnionPay's terms of service prohibit use of the cards for gambling purposes.
Comments