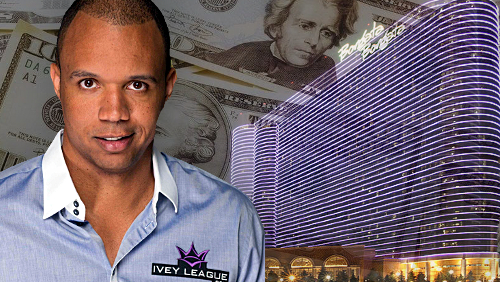 Atlantic City's Borgata casino wants poker pro Phil Ivey to ante up $15.5m in illicitly obtained baccarat winnings and "expectation damages."
Last month, Judge Noel Hillman ruled that Ivey (pictured) and his female accomplice had violated the terms of Ivey's contract with the Borgata by the practice of edge-sorting. Ivey won millions over four sessions of baccarat at the Borgata in 2012, money the casino originally paid out but filed a lawsuit to reclaim two years later.
Edge-sorting occurs when a player identifies irregularly cut playing cards by the minute variations that occur in the designs on their flip side. Ivey requested that the casino use a specific brand of cards and an automated card shuffler. Once Ivey and his accomplice Cheng Yin Sun identified a high-value baccarat card, they requested that the card be reoriented before being fed back in the shuffler, thereby allowing the pair to more easily identify the card when it re-entered game play.
Hillman ruled that the pair's antics hadn't violated the law but had violated the New Jersey Casino Control Act and thus the terms of their contract with the Borgata. Hillman set a 20-day window in which the Borgata was to submit a list of damages.
On Wednesday, NorthJersey.com's John Brennan revealed that the Borgata is seeking the return of $10.1m in winnings plus $249k in comps it showered on Ivey and Cheng during their four visits. But the Borgata also claims that Ivey would have lost $5.4m without his unapproved 'edge,' so the casino believes it's actually owed a total of $15.5m.
The Borgata's math for arriving at this $5.4m figure reveals the scale of Ivey's per-hand wagering. On his first Borgata visit in April 2012, Ivey played 1,180 hands at an average of $25k per hand. The following month, he played 4,215 hands averaging $36k, rising to 1,373 hands at $93k in July and 1,850 hands at $96k in October.
The Borgata's bid to force Ivey to pay these "expectation" losses may simply be a high bid the judge can reject in favor of simply getting their full winnings back. Regardless, Ivey's legal team will now submit its own paperwork attempting to bargain down the Borgata's demands.
Ivey's October stop at the Borgata came the same day that London's Crockfords Casino announced that it was withholding £7.7m in winnings Ivey and Cheng won using similar methods. Ever since, Ivey has been pursuing legal options to compel Crockfords to pay up, but has so far rolled snake eyes, including last week's defeat at the UK Court of Appeal.