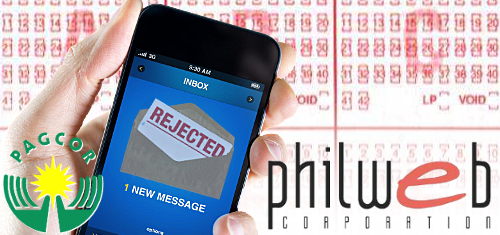 Gaming regulators in the Philippines have formally rejected a mobile lottery proposal that was intended to pull struggling gaming operator PhilWeb out of its death spiral.
On Tuesday, PhilWeb filed a notice to the Philippine Stock Exchange indicating that it had received a letter from the Philippine Amusement and Gaming Corp (PAGCOR) regarding PhilWeb's August 24 proposal to launch a new mobile phone lottery platform.
The letter, dated Sept. 20 and signed by PAGCOR CEO Andrea Domingo, said that the proposal to launch the text-based betting system called PAGCOR Text Bonanza had been denied. Domingo said the rejection reflected the government's current policy "to strictly regulate and ensure non-proliferation of gambling avenues which are accessible to lower income brackets of society."
Local media had reported in early September that PAGCOR had rejected PhilWeb's proposal but PAGCOR had until now not publicly commented on these reports. PhilWeb had projected that the lottery could generate up to P100b (US $2b) in annual revenue. PAGCOR is currently mulling privatizing the state-run PCSO lottery.
PhilWeb has been on the ropes since June 30, when the country's new president, Rodrigo Duterte, announced that "online gambling must stop" due to its effects on lower-income Filipinos. The primary focus of Duterte's ire turned out to be the eGames internet café-type venues that were PhilWeb's bread-and-butter.
By August, PAGCOR had opted not to renew PhilWeb's eGames permits. In desperation, PhilWeb chairman Roberto Ongpin stepped down and offered to sell all his shares – even offering to donate the proceeds to PAGCOR – based on his belief that Duterte was personally targeting him, not the company. But PAGCOR remained unmoved and Ongpin is now trying to sell his majority stake in PhilWeb for whatever he can still get.