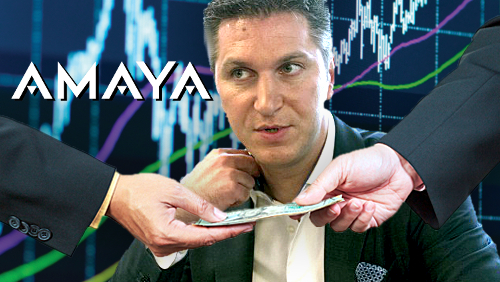 Financial watchdogs probing the insider trading allegations against former Amaya Gaming CEO David Baazov have identified a pattern of kickbacks surrounding the company's major acquisitions and other deals dating back six years.
On Wednesday, La Presse said it had studied a report by Quebec securities regulator Autorité des marchés financiers (AMF) into allegations that Baazov (pictured) illegally profited from stock trades based on foreknowledge of Amaya's deals, including the $4.9b acquisition of the Rational Group, the parent company of PokerStars.
La Presse reported that the AMF's investigation had concluded that "several agreements were reached" between Baazov and other individuals – including Baazov's older brother Josh/Ofer and Josh's former business partner Craig Levett – for "the payment of dividends to tuyauteurs" (Google translated as 'pipefitters') in the form of cash, checks and luxury items, including a Rolex watch.
The AMF said these arrangements were "negotiated before the offenses" occurred and displayed a "high level of organization and sophistication." The conspirators reportedly engaged in email exchanges laying out the specifics of share transactions, evidently to help calculate the exact amount owed via these deals.
SMOKING GUNS
A June 25, 2014 email from Isam Mansour – one of the 13 individuals whose trading privileges were suspended by the AMF when the scandal first came to light this spring – indicated that there was a deal to kickback 10% of profits (after tax and costs) made via insider share trading on the PokerStars acquisition.
As previously reported, the AMF has said the illegal deals didn't just involve Amaya, and included the Jan. 31, 2013 purchase of WMS Industries by rival gaming technology outfit Scientific Games. The AMF says David and Josh had a 9am meeting on Jan. 16, 2013, after which Josh exchanged texts with Levett.
Levett along with his wife, his brother and other confidantes, went on to make trades that netted profits of over $170k from the WMS deal. On Feb. 25, 2013, Levett sent an email to Josh titled "WMS" in which Levett wrote "this is what we owe to your brother. I have a check for him tomorrow."
Josh Baazov and Levett used to control US-facing online sportsbook BetonUSA and were believed to be behind Oddsmaker.com after BetonUSA folded its tents. Levett also founded the numbered company that eventually morphed into Amaya.
The AMF claims that Mansour worked with Josh Baazov and Levett at a consulting company called Blackbelt. Mansour was also a shareholder in Zapha Holdings, a British Virgin Islands business linked to both BetonUSA and Oddsmaker. Baazov's sister Goulissa was another Zapha shareholder.
BAAZOV MAINTAINS INNOCENCE
Baazov's attorney told La Presse that his client "is innocent, that he did nothing wrong and that he is eager to present his defense in court." Baazov, who pled not guilty to the charges in May, resigned as Amaya's CEO last month. The AMF has scheduled hearings on the Amaya affair on Sept. 12 and 13.
It could be a coincidence, but eGaming Review reported this week that Dominic Mansour, PokerStars' senior VP for southern Europe, had resigned last month. Mansour joined the Rational Group in April 2014 as managing director of its Full Tilt brand following a stint as CEO of the UK's Health Lottery.
Stars' spokesman Eric Hollreiser told eGR that Mansour "chose to leave to seek a suitable position elsewhere." Hollreiser told CalvinAyre.com that there was "no relationship that I am aware of' between the two men.