Struggling casino operator Caesars Entertainment Corp. (CEC) is bracing itself from a volley of future bondholder lawsuits as a federal judge hearing its bankruptcy case may not push the shield button.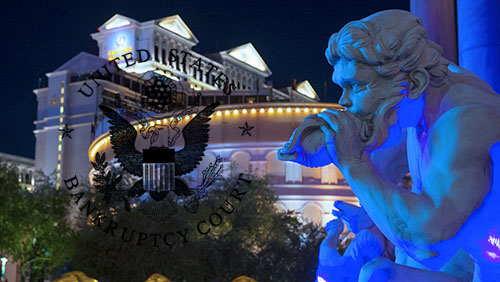 On top of that, Casesars' plea for a $900 million bailout has fallen on the deaf ears of the company's majority shareholders, Apollo Global Management and TPG capital.
Bloomberg reported that U.S. Bankruptcy Judge A. Benjamin Goldgar, which is expected to decide on Friday whether to extend a halt on lawsuits in New York and Delaware, is unlikely award Caesars with a bondholder lawsuit protection lawsuits that would last as long as its insolvent operating company is in bankruptcy
Judge Goldgar offered hints of his likely decision near the end of a three-day hearing of Caesar's petition to extend a ban on the lawsuits, which is crucial to making progress toward a settlement with creditors, Reuters reports.
"I've said that isn't going to happen," the bankruptcy judge pointed out, contending that Caesars Entertainment Operating Co. (CEOC) should win first approval the approval of its reorganization plan, which can't happen until next year at the earliest.
The lawsuits are the biggest obstacle left to getting Caesars' main operating unit out of bankruptcy.
Under Caesars' original restructuring plan, junior creditors would have received only around 10 cents on the dollar. The company has been forced to significantly sweeten its restructuring offer to junior creditors ever since an investigator's report into its controversial pre-bankruptcy asset transfers concluded that potential damage awards to creditors could cost CEC over $5 billion.
To boost their recovery to more than the 34 percent of Caesars' offers, bondholders took Caesars to court.
But adding to Caesars' problem was the supposed decision Apollo and TPG has ditched a pledge to repay CEOC's debts and divided the business into a profitable "good Caesars" with few debts and a "bad Caesars" that could be put into bankruptcy.
Also, the private equity firms ignored Caesars plea for $990 million to help lift it out of bankruptcy.