The Global Poker League Summer Series sees LA Sunset player Aaron Paul make his debut against Paris Aviator Team Manager Fabrice Soulier, and Olivier Busquet is the league's most valuable player at the end of Week 8.
The Global Poker League (GPL) moves into its second phase this week as Alex Dreyfus and the team set up camp in Las Vegas for a six-week program known as The Summer Series.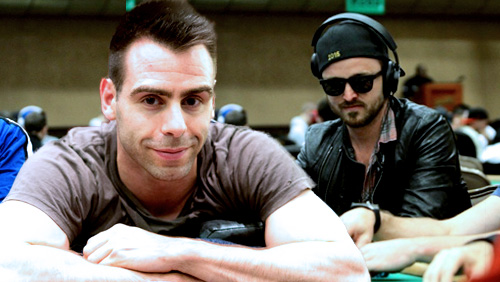 The GPL is huge. It might well be the future of our sport. But the World Series of Poker (WSOP) will always occupy the diaries of the top professional players in the game until Elon Musk eventually ships most of them to Mars to start learning how to plant potatoes.
The players were always going to be here, and so it made sense for the GPL HQ to move here. And move here they have (Check out Alex Dreyfus Twitter Account for all the photos) with the creation of The Cube. A soundproof glass box where the fans can see and hear the players, but the players can't see or hear the fans.
The Summer Series switches the format entirely. All events will be live from within The Cube. They will all be heads-up. Each Eurasia team will compete against every single team from the Americas Conference.
The first match up takes place Monday, June 6, 8 pm (ET) when the LA Sunset take on Paris Aviators, and it will be the first time fans will get the opportunity to see the former Breaking Bad star, Aaron Paul, getting jiggy with it when he faces Fabrice Soulier.
The Summer Series continues until the WSOP Main Event kicks off by which time The Cube will be dismantled and shipped off to San Diego for the GPL Playoffs live from TwitchCon 2016.
Here are the current standings.
GPL Americas Standings
1st. Montreal Nationals – 106 pts
2nd. LA Sunset – 95 pts
3rd. New York Rounders – 87 pts
4th. Sao Paulo Mets – 82 pts
5th. San Francisco Rush – 69 pts
6th. Las Vegas Moneymakers – 65 pts
GPL Eurasia Standings
1st. London Royals – 97 pts
2nd. Moscow Wolverines – 92 pts
3rd. Hong Kong Stars – 91 pts
4th. Paris Aviators – 86 pts
5th. Berlin Bears – 74 pts
6th. Rome Emperors – 63 pts
Here are some interesting stats from the first eight weeks of action:
I love Aaron Paul. He has me hooked on The Path. But when it comes to poker he has to be the underdog searching for a bone. Fortunately, the Paris Aviators Team Manager may be throwing him one.
Of the 36 players who have competed in the Eurasia Conference, Fabrice Soulier is currently propping up the table regarding points won. According to my records, the WSOP bracelet winner, has competed in four six-max matches, taken the bagel in three of those, and finished fifth in the other for a measly point. If Paul is going to get a scalp, the stats say it's sitting on top of the head of Soulier. Only one player has a worse score than Soulier to date, and that's Kevin MacPhee, who has appeared in two six-max matches for the New York Rounders and picked up the bagel on both occasions.
LA Sunset Team Manager, Maria Ho, and Las Vegas Moneymakers Team Manager, Chris Moneymaker, are also sitting on a single point. The difference between Ho, Moneymaker and Soulier is the Americas Team Managers have only played in a single event each. It seems the pair are focusing on managing instead of playing prompting me to wonder why they didn't draft a sixth player like Philipp Gruissem chose to do for the Berlin Bears, or Andre Akkari opted to do with Sao Paulo?
Not all Team Managers have taken the same route as Ho and Moneymaker. The Eurasia Conference Most Valuable Player (MVP) must be Moscow Wolverine's Team Manager Anatoly Filatov, who has amassed 36 points for his team including two victories and two runner-up spots in the six-max action, and a heads-up victory against Vanessa Selbst.
London Royals Team Manager, Liv Boeree, has also been heavily involved competing in five six-max matches and winning three of them. No other player in either conference has won as many six-max games as Boeree. Filatov (Moscow), Mike Leah (Paris), Alex Luneau (Paris), Martin Jacobson (Montreal), Mike McDonald (Montreal), and Tyler Kenney (New York) have all won twice.
Regarding total points won in six-max action, Filatov is the beast in the Eurasia Conference with 27 points. Mike Leah and Liv Boeree are joint second with 24 points.
The MVP of the Americas Conference is currently LA Sunset's Olivier Busquet amassing 42 points mainly picked up in heads-up action. Busquet's haul makes him the MVP of the entire GPL. Of the six heads-up matches that Busquet has played only Felipe Ramos has been able to beat him. Busquet picked up 33 points in HU action. Montreal's Jason Lavallee has the second highest HU points total with 24. Lavallee is thus far undefeated in three HU matches handing out white washes to Darren Elias (Sao Paolo) and Anthony Zinno (Las Vegas), before beating Scott Ball (Las Vegas) by 2-1.
Just one point behind Busquet in the MVP charts is his LA Sunset partner Fedor Holz. The German has competed in nine six-max matchups, and that's more than any other player in the GPL. The LA Sunset's plan is a simple one, and it's working. Let Holz take the six-max action, Busquet take the HU action, and Paul can rake the marketing money in by making a live appearance now and then.
Players who need more game time include Aaron Paul (LA) who has yet to make an appearance; Vanessa Selbst (London), Ho (LA), and Moneymaker (Las Vegas) with one appearance each, and Bryn Kenney (New York), Xuan Liu (Montreal), Joao Simao and Byron Kaverman (Sao Paolo), Phil Galfond (San Fran), Eugene Katchalov (LA), Kevin MacPhee (New York), George Danzer (Paris), and Dzmitry Urbanovich (Moscow) who have all competed twice each.
Fedor Holz (LA), Jonathan Little (Las Vegas), Jason Lavallee (Montreal), Jason Wheeler (New York), Anton Wigg (San Fran), Jason Mercier (New York), Jeff Gross (Berlin), Sam Trickett (London), Sorel Mizzi (Berlin), Justin Bonomo (London), Max Pescatori (Rome), Mustapha Kanit (Rome), Alex Luneau (Paris), and Mike Leah (Paris), all remain undefeated in heads-up action.
Special mention should also go to Sam Trickett, who is undefeated in heads-up action and won one of his two six-match appearances with a third place finish preventing a 100% success rate in both events.
Comments