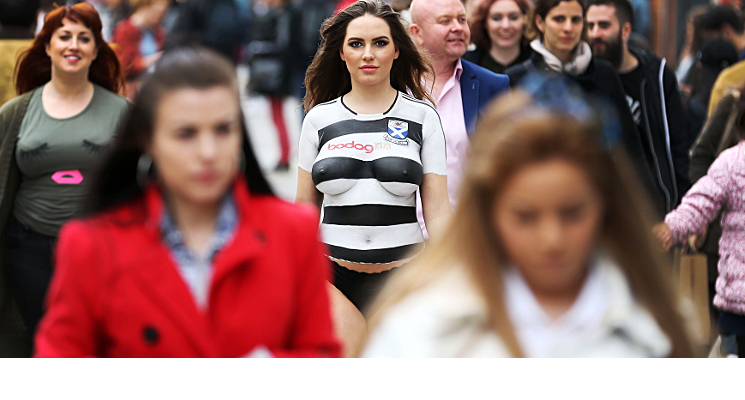 Fresh off their promotion to the second tier of Scottish football, Ayr United FC are reminding their Scottish Championship rivals of what the team will look like when they meet on the pitch next season.
Ayr United earned elevation to the Scottish Championship earlier this month following a two-match playoff with rivals Stranraer that culminated in a penalty shootout. Defender Andy Graham scored the winning penalty that sent Ayr United back to the Championship for the first time since 2012.
The promotion will likely spark even greater sales of Ayr United replica shirts. In fact, it probably wouldn't be a leap to suggest that the team's shirts may have outsold all of their Scottish League One rivals last season. The team is also (probably) the only Scottish football outfit besides Celtic and Rangers that has developed any significant Asian fan base.
Calvin Ayre, the founder of the Bodog brand – Ayr United's main sponsor for the past five years – acknowledged the widespread popularity of the team's kit yet found it hard to put his finger on exactly why such a phenomenon should persist so far beyond Ayrshire.
"The Ayr United shirts are of a very high quality but it would be unfair to say they are materially superior to other teams' kit. In fact, based on the latest photo shoot [examples of which can be found on this page], it appears to me as if there may be some sizing issues with the first shirts to come off the rack. Also, it seems the colours may run if you get your hands wet and engage in some vigorous self-massage. So, you know, fair warning. And 'Mon the Ayr!"