Two tales from the bad boys of poker after Chino Rheem becomes only the third person to win three World Poker Tour titles, and Dan Bilzerian secures a book deal with Simon & Schuster.
Lance Armstrong, Tiger Woods, and Diego Maradona.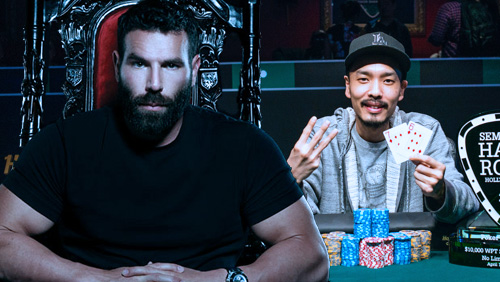 Sportsmen that possess all of the talents in the world, but can't seem to quiet the devil within. It's the primordial soup that flows through the very best veins in the land. It's the same with superheroes. They all have a bit of wrong in them – even Ant-Man.
Now, I'm not saying Chino Rheem is in that league. Let's not get carried away. But when I look at the modern tale of poker, I can't think of a more mercurial talent that seems to walk around the tables with as much devilment as this young man.
Rheem has done nothing in the past two years. Then boom. He ends up playing in a $10,000 buy-in event, surrounded by the world's greatest players and walks away with the win. It must wind up the goody two shoes something awful.
How on earth does a man who has forum threads entitled 'Chino Rheem is SCUM' named after him manage to find even $10,000 to play in an event, especially when his track record in live tournaments in the past 24-months hasn't heralded much regarding financial success?
It's because, on his day, his style of poker, can be just unstoppable. It's gambling folks. It's all about the risk, and it seems people are willing to risk never seeing their money again, on the oft chance that Rheem does something special.
And this weekend he did do something special after winning the $705,885 first prize after defeating 342 players in the World Poker Tour (WPT) Seminole Hard Rock Poker Finale in Florida. He becomes only the fourth person in history to win three titles, joining Carlos Mortensen, Gus Hansen, and Anthony Zinno in that illustrious club.
Rheem won the 2008 WPT Five Diamond Championships for $1.5m, and the 2013 WPT World Championships for $1.5m. His victory in Florida was the fifth largest of his career. He has now earned over $8m in live tournament earnings (63rd best in the world ever). It's not making money that's Rheem's problem – it's keeping hold of it.
Final Table Results
1st. Chino Rheem – $705,885
2nd. Aditya Prasetyo – $484,130
3rd. Richard Leger – $311,305
4th. Adrian Mateos – $200,510
5th. William Benson – $154,585
6th. Bryan Piccioli – $127,905
Dan Bilzerian Secures Book Deal
From one bad boy who has won $8m and lost every penny of it to another bad boy who was handed multi-millions and is doing a good job of turning it into a very lucrative career.
A career?
What exactly does one call Dan Bilzerian when it comes to defining his career?
Well, come the fall you can start calling him an author. We told you back in August that the man with the most famous beard in the world was writing a book (we didn't need to hire Sherlock to figure it out).
Writing my book pic.twitter.com/uh3qytOdEF

— Dan Bilzerian (@DanBilzerian) August 9, 2015
Now according to PageSix.com, the super-sized Hugh Hefner has secured a book deal with Simon & Schuster's Gallery Books. We don't know much about the new book. What we do know is the word 'Blitz' will be somewhere in the title, and teenage boys will be reading it with a box of kleenex at the ready due to the inclusion of some of his very best personal photographs (guns, muscles, women – kids get turned on by the lot these days).
It's not like the man is short of content. He is the son of a corporate raider who has somehow managed to hide gazillion dollars from the hands of the government. He nearly became a Navy SEAL. He owns more guns that ISIS and he has the penchant for blowing shit up with them in the desert. He once threw a porn star off a roof, allegedly booted a woman in the chest in a nightclub, once had sex with 16 women in 12 days, and suffered two heart attacks when combining coke, viagra, and too much shagging.
He is everything your mother would hate in a son-in-law.
And this is why everyone will buy his book.
It's the devil you see.
Everyone wants to take a peek at the devil.