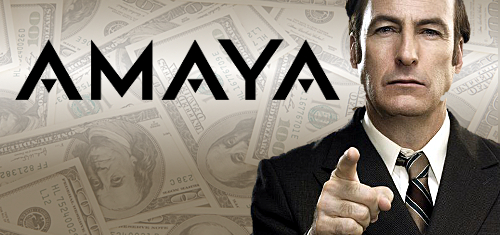 The hits just keep on coming for Canadian online gambling operator Amaya Gaming, which is being sued in US federal court over its growing insider trading scandal.
On Thursday, Maryland-based investor Harvey Weisman filed a proposed class action complaint in the US Southern District of New York (SDNY), alleging that Amaya failed to disclose the shenanigans of its embattled CEO David Baazov, who announced this week that he was taking an indefinite leave of absence from the company.
Baazov, along with another Amaya exec and a former financial advisor, were charged with insider trading last week, while 13 other individuals – including Baazov's older brother Josh – had their trading privileges suspended by the securities regulator in Amaya's home province of Quebec over sketchy Amaya-related trading activity dating back to 2010.
Weisman says Amaya had a duty to disclose Baazov's trading activity and also failed to properly disclose deficiencies in its internal controls. Weisman claims that false and/or misleading statements by Amaya execs caused the company's share price to be artificially inflated before shedding over one-fifth its value following last week's AMF charges.
In addition to Amaya and Baazov, Weisman's suit also lists CFO Daniel Sebag as a defendant. While not included in last week's charges, Sebag was identified as a person of interest when the Autorité des marchés financiers (AMF) launched its investigation in late 2014, several months after Amaya's $4.9b acquisition of the Rational Group, the parent company of PokerStars.
As with the flood of daily fantasy sports class action suits that followed last fall's data leak scandal, multiple law firms in different US states are actively beating the bushes looking for aggrieved investors who purchased Amaya shares on the Nasdaq exchange between June 8, 2015 and March 23, 2016, in case they want to add their names to the roster of plaintiffs.
In the US, class action lawsuits are to companies like barnacles are to boats: not likely to cause the vessel to sink but an annoyance that needs to be scraped away all the same. This is just one more negative distraction for Amaya, with a degree of severity somewhere between the erosion of its core poker customer base and mounting questions as to which Baazov brother is actually calling the shots.