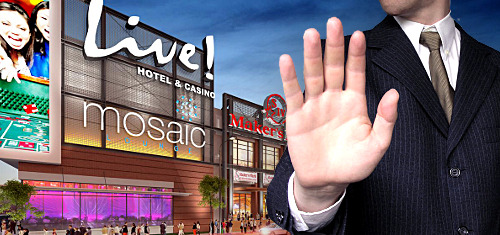 Pennsylvania's casino market welcomed a new operator this week while pumping the brakes on another operator's plans to enter the market.
Starting with the positive news, Nevada-based Pinnacle Entertainment Inc. announced a deal on Tuesday to take over operation of The Meadows Racetrack and Casino in Washington County.
The property was acquired last year by Gaming and Leisure Properties (GLPI), the real estate arm of Penn National Gaming, which also acquired Pinnacle's real estate assets last July, so the dance partners here aren't exactly strangers.
Pinnacle, which operates 15 gambling venues in eight US states (but not Pennsylvania), has agreed to pay GLPI $138m for Meadows' gaming license and operating assets, which include a 180k-square-foot-casino and a harness racing track. Pinnacle will also pay GLPI annual rent of $25.5m for the first decade, with options to renew.
The deal still requires approval of both the Pennsylvania Gaming Control Board and the Harness Racing Commission. Neither agency has yet to formally approve GLPI's 2015 acquisition of Meadows, but GLPI hopes to get the final nod in Q3.
SECOND PHILLY CASINO LICENSE CHALLENGED
In less positive news, Tuesday saw the Pennsylvania Supreme Court order the Gaming Control Board to review its late-2014 decision to award the state's final casino license to Stadium Casino LLP, a joint venture of Cordish Cos. of Baltimore (operator of Maryland Live!) and Greenwood Gaming & Entertainment (which owns Pennsylvania's Parx Casino).
The Supremes were responding to a challenge filed by SugarHouse Gaming, which operates Philadelphia's other casino, and Market East Associates, which had unsuccessfully bid for the last Philly casino license. The crux of the challengers' objection is that the Cordish/Greenwood joint venture's ownership structure is illegal.
Specifically, the challengers questioned whether Watche Manoukian, who owns nearly 86% of Parx, would control more than one-third of the new casino, which state law doesn't permit. The challengers claimed Manoukian had engaged in sham transactions intended to disguise the full extent of his interest in the Stadium project.
The Supremes didn't render an opinion on the merits of these ownership claims but did find that the Gaming Control Board had failed to adequately ascertain to what extent the transactions had altered Manoukian's ownership interest, and thus more review was required.
Stadium's $450m project in South Philly is being developed under the name Live! Hotel & Casino and plans to offer 2k slot machines and over 100 gaming tables, along with a 200-room hotel, restaurants and other non-gaming amenities.
Comments