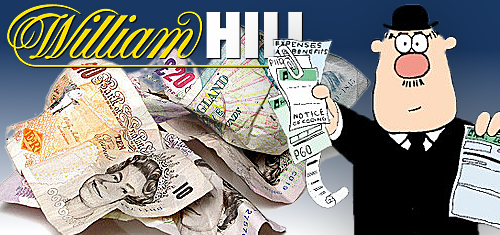 Bookmakers William Hill paid £87m in additional online and retail gambling taxes in the UK last year, which dragged down the company's profits.
Hills released its official 2015 retrospective on Friday, which showed group revenue falling 1% to £1.59b, while operating profit fell 22% to £291.4m and profit after tax slipped 8% to £189.9m. Hills blamed the slide on those aforementioned taxes, the lack of a major football tourney, unfavorable sporting results and fewer retail shops.
Focusing on the positives, CEO James Henderson chose to celebrate the progress his firm had made in its three strategic priorities – omni-channel, technology and international – which he maintains have positioned the company well for growth in 2016.
Online operations accounted for 35% of Hills' group revenue, up from 32% in 2014. Sportsbook revenue improved 4% to £264m while gaming rose 5% to £287m but cost of sales rose 147% — including £66.4m in new UK online point-of-consumption tax – resulting in a 29% decline in online profit to £126.5m.
UK net online revenue was up 11% while Hills' non-core online markets revenue fell 27% due to the decision to exit five countries, including Poland, Portugal and Romania.
The dot-country sites in Italy and Spain reported revenue up 28% and 13%, respectively, in local currency terms. The Italian site achieved profitability for the first time last year but those two international operations combined for a net operating loss of £400k for the year.
William Hill Australia's share of group revenue fell two points to 6% as revenue fell 20% to £97m and profit slumped 46% to £13.4m. Betting handle was down 27%, reflecting the disruptions from brand consolidation and a reduced focus on high-value bettors but Hills says its Q4 numbers suggest a down under turnaround is imminent.
William Hill US enjoyed a 36% spike in betting handle, while revenue improved 12% to £33.3m. However, operating costs rose 21%, pushing the US division's profit down 5% to £9.2m.
Telephone wagering handle rose 7% and revenue gained 5% to £12.4m, but this segment reported a £1.2m loss in 2015, 50% higher than in 2014. Hills says it intends to fold the telephone division's results into its online numbers from this point forward.
Retail remains Hills' bread-and-butter, accounting for 56% of group revenue. Retail betting handle fell 1% while betting revenue fell 4% to £431m. Fixed-odds betting terminal revenue slipped 1% to £458.6m due to the imposition of the new £50 wagering cap. Retail profit fell 11% to £171.4m thanks in part to £19.1m in additional taxes due to the increased Machine Games Duty.
Hills has high hopes for this year's rollout of its new proprietary self-service betting terminals (SSBT), with 500 machines expected to be in place before EURO 2016 kicks off this summer. The SSBT are linked to the online Trafalgar platform, allowing punters a true omni-channel experience and Hills says customer feedback has been positive.
Despite 2015's overall decline, Hills announced an increased dividend payout ratio – from 40% to 50% of earnings per share – and a £200m share buyback program, which will be completed over the next 12 months.
Numis analysts suggested that the buyback indicated that Hills is not planning to join the UK's merger and acquisitions frenzy, despite reports that it is backing a bid by NYX Gaming Group to acquire technology supplier OpenBet.
Comments