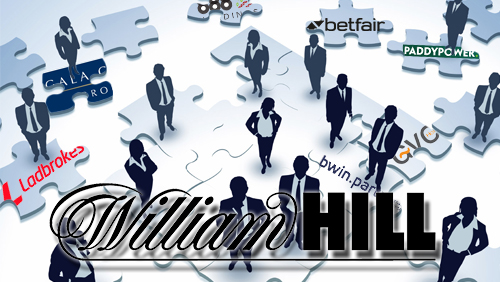 The word "merger" sounds like a big threatening word in the world of markets. It suggests you're getting tag-teamed, double teamed, or otherwise boxed out. As if on a political chess board or war game (or actual war), the natural instinct is to build alliances and make sure you're not being outcompeted or that the balance of power isn't too tipped to one side. That makes sense in the world of politics where everything is violence and force and might. But in markets where all transactions are voluntary and the small in principle can outcompete the large just by virtue of pleasing consumers better, a merger need not necessarily be matched out of fear.
We've seen three big mergers since July in UK gaming. It began with Gala Coral and Ladbrokes, then on to Paddy Power and Betfair, and finally GVC and bwin.party. On the face of it, these three power moves seem to leave 888 and William Hill behind and threatened, but that's not the case, at least not with all three. Two of these three mergers are not being completed under ideal circumstances, and can more be thought of as salvage operations. The only one that seems to really be a synergy is Paddy Power and Betfair.
First, the Gala Coral and Ladbrokes merger was primarily about digital. Keep in mind that Ladbrokes had been a digital basket case and was thoroughly outcompeted by William Hill from 2013 on. Gala Coral and Ladbrokes' merger is more of an attempt at catch up than any concrete threat to William Hill. Just to review the numbers once more, Ladbrokes' digital revenue accounted for 6% of operating profit in 2013, and Hill's 48%. The numbers have evened out a little bit since Ladbrokes hired Playtech, but Ladbrokes is still behind, though less so with the Coral merger. Market pricing always speaks louder than speculation, so here's what I said about this merger after it happened:
If you're looking for a way to trade the merger… go long PlayTech rather than Ladbrokes. Ladbrokes will still have to contend with heavy taxes on its machines, whereas PlayTech has no exposure to those taxes. Now, however, is not the time to go long anything, but when money supply starts growing again, PTEC is a smarter move than LAD for when the time comes.
Since the move and the crazy market action since due to a declining money supply, Ladbrokes is down 17.75%. Playtech is down 6.5%. William Hill is down 9.6%. The weakest companies get hit the hardest in times of turmoil, and there is no difference here. Relatively, Playtech is the winner, and Ladbrokes is still weaker than William Hill.
The GVC bwin.party merger is also little threat to William Hill or 888. It is true that GVC and bwin.party have some good business overlap and can save a lot of money together, but GVC's core business looks more threatened by the day. An 888/bwin.party merger would have been much more of a threat for William Hill, but not this. Brazil and Turkey look really unstable with Brazil being cut to junk and cancelling local bond auctions, and violence in Turkey escalating. All we need is for Greece to elect another group of politicians who want to "renegotiate the bailout deal" again next week and GVC will have a trifecta of serious perfect-storm problems in its core markets of Brazil, Turkey, and Germany. And as we all know, bwin.party itself is a merger gone bad and a salvage operation in its own right.
The only really good deal out of the three is Paddy Power and Betfair, which do seem to be a good match. Together, they are more powerful than William Hill with equally good finances. Hill has debt but not too much of it, and the bottom line has been struggling to grow of late. Hill's income is still 42% higher than Paddy Power's last year, but Betfair and Paddy combined have a bottom line 12% larger than Hill's. This may even out next year because much of Hill's debt is due in 2016 and interest expense will be lowered, but that is not much of a growth strategy.
So the new Betty Power will be a good challenge for William Hill, but not necessarily an immediately threatening one. It's not like Hill has to manufacture a forced merger to try and maintain market share here. It has been a leader making the right decisions long enough to withstand any encroaching threat from a new entity, and it is not in any kind of financial duress either. A merger with 888 was tried back in February and failed over price.
If the two companies see they are not growing fast enough in the face of a growing Paddy Power Betfair Group, the talks may be reopened again at higher stakes. The faster Betty Power grows, the higher the chances of 888 and William Hill finally working something out, especially after 888's disappointing conclusion with bwin.party, losing it to GVC.