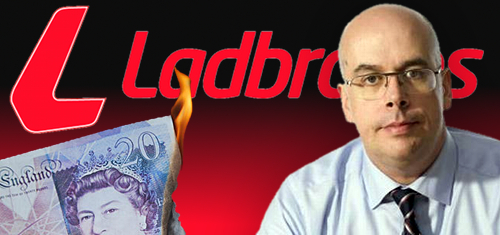 UK bookmakers Ladbrokes announced their first annual loss in a decade as the company fights to turn around its languishing digital operations.
In preliminary results released on Tuesday, Ladbrokes announced a pre-tax loss of £43.2m in 2015, a dramatic shift from 2014's £37.7m profit. The numbers were dragged down by £50m in new UK taxes, thanks to the 15% online point of consumption tax and the 25% increase in the land-based Machine Games Duty.
Group revenue was up 3.2% to £1.2b but operating profit fell 36% to £80.6m thanks to those aforementioned taxes and expenses related to the company's ongoing efforts to boost its digital offering.
Lads also suffered £99m of one-off charges due to the restructuring of its Irish retail operations and costs associated with the proposed merger with rival Gala Coral Group. The company says the merger is proceeding apace and it's eagerly awaiting the UK competition watchdog's initial report in April.
Lads CEO Jim Mullen (pictured) said the 2015 numbers reflected a "good start" to the company's rejuvenation plan, which Mullen launched last year in a bid to "change the way we do business." Mullen cautioned that the company was "only at the beginning of the journey" but believes they're on pace to right the ship by 2017.
DIGITAL DUD BOOSTED BY GAMING GAINS
Lads' digital offering posted both the largest revenue gain as well as the biggest profit decline. Digital revenue rose 12.9% to a record £242.8m but increased marketing and product investment resulted in a net loss of £23.8m versus a £14m profit in FY14.
Sports betting revenue fell 4.5% to £81m despite stakes rising 29%. Mobile stakes improved 69.4% and accounted for 70.5% of digital stakes. The revenue decline was blamed on a 1.7-point fall in gross win as well as "significant" losses from high-value customers in Q1.
Digital gaming revenue rose 13.3% to £91.2m, marking five consecutive quarters of gaming growth and the first time the vertical has eclipsed sports betting. Revenue from Lads' exchange betting products Betdaq and Ladbrokes Exchange gained 0.8% to £13.3m.
Lads' Australian online betting business saw revenue up 54% to £53.2m, although increased marketing spend pushed operating profit down 3.8% to £2.5m. Revenue at Lads' regulated operations in Spain and Belgium rose 105% to £4.1m while operating losses improved slightly to £5.8m.
RETAIL BETTER AT HOME THAN ABROAD
Turning to the UK retail business, revenue nudged up 2% to £827.4m despite small declines in stakes in both OTC wagering and machine gaming. Adverse sports betting results in H1 pushed OTC revenue down 3.2% to £374m while machine win rose 6.1% to £464.5m.
European retail revenue was down 1.9%, reflecting the commotion in its Irish business, which saw revenue fall 11% to £64.2m. Belgian retail revenue was up 22% to £55.6m while the Sportium joint venture in Spain reported an operating loss of £1.8m despite a 45% rise in OTC wagering.
Telephone wagering revenue fell nearly by half to £5.5m as stakes fell by one-third. Lads' high-rollers business generated an operating profit of £3.3m, down from £14.2m in 2014, but the company says this is the result of it de-emphasizing this volatile business rather than VIPs going on a hot streak.
Shareholders shrugged off the annual loss, sending Lads' shares up 5.6% on Tuesday, suggesting they back Mullen's view that the digital operations have turned a corner.