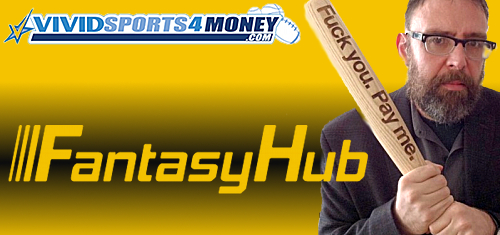 Daily fantasy sports operator FantasyHub has "temporarily suspended operations," leaving its customers unclear of the fate of their account balances.
This week, a thread opened on the RotoGrinders forum in which a player reported difficulty in getting movement on his FantasyHub withdrawal request. Other players soon chimed in, citing similar problems with the Austin, Texas-based site that launched in 2014.
On Friday, FantasyHub's site ceased all functionality, instead displaying a banner declaring that its owners were conducting "discussions with a strategic 3rd party regarding the future of FantasyHub and its players." An email sent to FantasyHub players said the company couldn't divulge any further details of these discussions "due to advice from counsel."
The closure marks the second DFS site to shut down in as many months, following FantasyUp's mid-January implosion. FantasyUp was subsequently bailed out by the iTEAM Network, which pledged to honor FantasyUp's financial obligations to its players.
FantasyHub is believed to have a much larger player base than FantasyUp, while FantasyHub is also a member of the Fantasy Sports Trade Association (FSTA), membership in which comes with a requirement that operators maintain a strict church-state separation between player deposits and operating capital.
A FSTA spokesman told ESPN that the FSTA was "cautiously optimistic that FantasyHub will find a backer to help them meet their prize obligations," while insisting that the FSTA "continually make it clear that it's never okay to spend prize money."
FantasyHub's unique selling point was its links to various non-profit groups, as the site offered special contests in which the proceeds went to certain charities, and players were encouraged to donate portions of their winnings to the various groups. However, the RotoGrinders thread contains assertions from players that some of the listed charities appeared wholly unaware of their links to FantasyHub.
THE DFS-PORN 'PEANUT BUTTER MEETS CHOCOLATE' MOMENT
As one DFS door closes, a large-breasted window opens. Next week will see the launch of Vivid Sports 4 Money, a co-production of porn purveyors Vivid Entertainment and DFS operators DraftDay Gaming Group.
The two parties originally announced they'd hooked up over a year ago, leading to last year's launch of free-play DFS offering VividBetSports.com, which has since undergone a real-money rebrand as VividSports4Money.com.
Vivid's DFS site isn't available in Arizona, Illinois, Iowa, Louisiana, Nevada, Montana, Washington, Puerto Rico or the Canadian province of Quebec. Regardless, FantasyHub players will likely envy the fact that Vivid vows to "rigorously segregate player balances from funds used for operations."
Vivid co-founder Bill Asher told Bloomberg Business that Vivid would be testing various graphics, price-points, sports, advertising and other aspects of its DFS site to determine what's most effective at catching and holding DFS players' attention.
Just a hunch, but we'll go out on a limb and suggest that Vivid's DFS adverts might not provoke the same negative response generated by last fall's DraftKings and FanDuel media onslaught. That said, we really hope that Vivid's DFS spokesman isn't named Bradley DP.