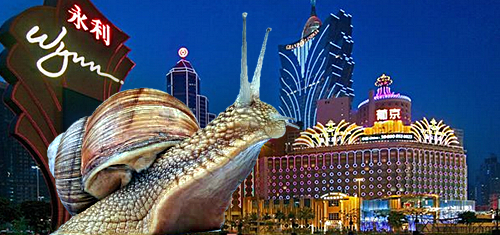 Macau's beleaguered junket industry took another hit this week on reports that yet another junket operator was downsizing its VIP gaming activity.
On Monday, the Chinese-language newspaper Economic Journal reported that Jimei International Entertainment Group had closed one of its VIP rooms at the Wynn Macau casino. Jimei has also reportedly consolidated its operations at Melco Crown Entertainment casinos, combining the International Club at Altira with its room at City of Dreams.
Contacted by Macau Business Daily, Kwok Chi Chung, an independent non-executive director of Jimei and president of the Association of Gaming and Entertainment Promoters of Macau, denied that Jimei had closed any room at Wynn Macau. If true, Jimei's would be the second VIP room to close at Wynn Macau this week, following Dore Entertainment Co Ltd's decision to shutter one of its rooms following its internal theft scandal.
There's no question that Macau's junket operators have been dealt a bad hand during Macau's soon-to-be-17-month gaming revenue decline. With VIP gaming falling to unprecedented lows in terms of overall revenue, many junkets have begun looking beyond Macau while others have closed up for good.
The Neptune Group, one of Macau's leading junket operators, recently mused about shutting its Macau VIP gaming business entirely. On Friday, the company released its annual report, in which chairman Danny Xuha Huang wrote that such statements may have been "overly pessimistic" while warning that "operators that are forecasting quick and strong rebound may be overly optimistic."
Huang acknowledged that the junket sector had experienced "the worst period for quite some time" but said Neptune did see "improvement around the corner." However, Huang qualified his vision by saying this improvement "will come at a snail's pace."
Comments