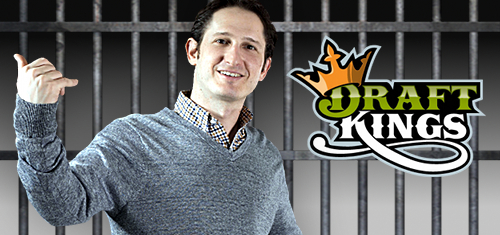 Daily fantasy sports operator DraftKings CEO Jason Robins (pictured) got a rare piece of good news on Wednesday when the Massachusetts Attorney General said she wasn't pursuing criminal inquiries against the company.
Attorney General Maura Healey made waves last month when she announced she was "reviewing' the legal status of DraftKings, which is based in Boston. Speaking at a Political Happy Hour event in Boston on Wednesday, Healey said there were no federal or state laws that prohibited DraftKings from offering fantasy gaming and that her office was "not looking to shut them down."
Healey said her inquiry was focused on the company's internal controls and consumer protection safeguards, which is highly ironic, given that the company (and rival FanDuel) announced earlier that day that they had launched third-party reviews of their internal practices in response to the 'insider trading' scandal that has dragged both companies' names through the mud this past week.
Healey said she'd been "concerned" by this week's revelations, which suggested that DFS players "were literally playing against the house and not surprisingly the house made out pretty well in this instance." Healey said the kerfuffle had created the opportunity for the companies and state authorities to work together to "get it right" so that DFS consumers are "assured a level playing field."
Whether Healey's pronouncement will have any effect beyond her state's borders remains to be seen. Legal charges may not be forthcoming but federal hearings are brewing and regulation is definitely in the mail. Wednesday's Boston Globe editorial page called for DFS regulation in no uncertain terms: "The fantasy sports industry, as gambling, needs to be treated like other forms of gambling in which there are clear rules, and the state gets a cut."
MARYLAND PUTS DFS IN THE HOT SEAT
Other states are angling to put their two cents in. On Wednesday, the head of Maryland's Lottery & Gaming Control Agency openly questioned the legality of DFS, calling it "a powder keg." Speaking at a Board of Public Works meeting, Gordon Medenica called DFS "a clever attempt to get around the need for regulations."
State comptroller Peter Franchot noted that DFS "does appear to be just gambling. It's basically advertised as gambling." Calling it "one half step away from the total corruption of sports," Franchot asked Medenica to "prepare something … that outlines some of the issues" of the DFS sector. Medenica said DFS "certainly doesn't fall under our purview, but we'll see how this goes and the legal pushback that will occur."