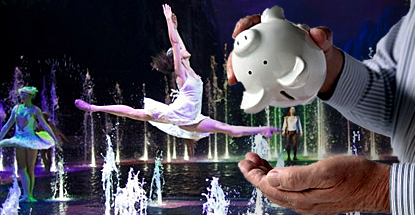 The CEO of casino operator Melco Crown Entertainment has admitted that no one comes to Macau for non-gaming amenities.
Fresh off Q2 results that showed an 83% fall in profit and waiting anxiously for word on how many gaming tables Macau authorities will allocate to Melco Crown's new $2.3b Studio City resort, CEO Lawrence Ho confessed to feeling helpless in a surprisingly frank interview with Macau Daily Times.
Ho said Melco Crown was "literally praying" that Studio City's table allotment comes in closer to its originally planned 400 rather than the 150 that most analysts suspect Macau will dole out, in keeping with what Galaxy Entertainment Group recently received for Phase 2 of its Galaxy Macau property. Ho acknowledged that he'd essentially been reduced to hoping his "lottery ticket" would prove a winner.
Ho believes Melco Crown's commitment to boosting non-gaming amenities at its properties – like its award-winning House of Dancing Waters show – is in keeping with the diversification request/order that Macau authorities gave its casino licensees. Given Melco Crown's commitment — and an implied suggestion that this commitment was larger than Galaxy's – Ho said it wouldn't be fair if every Macau operator were "treated the same way."
Despite that commitment, Ho has no illusions that Macau will mirror Las Vegas, where the casinos now derive close to two-thirds of their revenue from non-gaming amenities. Case in point: non-gaming amenities accounted for less than 10% of the $654m in revenue generated at Melco Crown's flagship City of Dreams property in Q2.
Ho said the "cold hard truth is, non-gaming doesn't make any money and it will never make any money. For all the foolish people out there that think non-gaming is going to save [Macau's] day, it's not." The only way this situation would change would be for Macau to "pick itself up and move to Las Vegas."
Ho said non-gaming was there for a single purpose: "to draw gaming business in Asia." Ho insists this phenomenon was the same across the continent; "it's just the Asian way." Ho said the government in Singapore "doesn't like to say it, but 90% of the integrated resorts' revenue was coming from gaming, just like Malaysia."
Ho went as far as to suggest that Melco Crown would use Studio City's table allocation as a benchmark for future contributions to Macau's diversification efforts. Ho said much would depend "on how much support we get … If we don't get the type of support that we hope to get, it causes us to rethink whether we've done a bit too much."