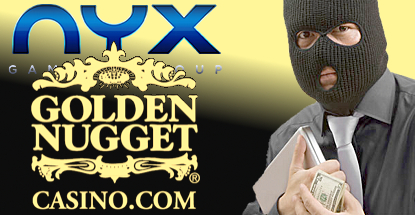 Online gambling software provider NYX Gaming Group has inked a deal with the Golden Nugget casino's New Jersey-licensed online gambling site.
On Monday, NYX announced it would provide Golden Nugget Atlantic City with a brand new web and mobile presence via NYX's Online Gaming Platform. The Nugget's online casino site, which ranked second on New Jersey's regulated online gambling market's most recent revenue chart, will begin adding desktop and mobile games content from NYX's NextGen Gaming division this summer while the new platform will go live by December.
The deal means NYX now has a presence with half of the state's licensed online gambling operators. NYX CEO Matt Davey said his firm was "delighted" to bolster its New Jersey presence while Golden Nugget VP of Online Gaming Thomas Winter said NYX had "impressed us with their world-class gaming technology, open content approach and proven commitment to invest in the market."
NEW JERSEY SITES HIT WITH COORDINATED DDOS ATTACKS
New Jersey's online gambling market endured its first (publicly admitted, at least) coordinated set of distributed denial of service (DDOS) attacks last week. On Monday, NJ.com reported that state and federal authorities were investigating a ransom demand by a hacker who targeted four of the state's licensed online gambling operators.
The hacker reportedly began targeting the websites last Thursday and the attacks continued through the holiday weekend. Division of Gaming Enforcement (DGE) boss David Rebuck said "at least four" sites experienced an initial wave of data flooding their sites that lasted approximately half an hour.
The attacks were followed by warnings of more sustained and powerful attacks unless the sites provided the hacker with an unspecified amount of the Bitcoin virtual currency. Rebuck said businesses in Atlantic City that shared internet servers with the affected sites were collateral damage in the attacks.
The authorities didn't identify the targeted sites, but the hacker is reportedly a "known actor" with a history of such ransom demands. Rebuck said the person believed to be behind the attacks had "done this before." The DGE, state police, the FBI and Homeland Security are all investigating the incidents.