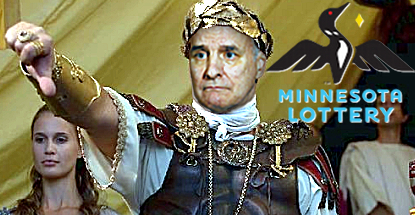 UPDATE: Dayton's spokesman has said the governor will allow the bill to become law without his signature.
Minnesota legislators have once again approved a plan to kill their state lottery's online operations, but will Gov. Mark Dayton (pictured) approve it?
On Thursday, the state House of Representatives voted 122-6 in favor of legislation that would scrap the Minnesota Lottery's year-old online operations. The state Senate passed its own version of the bill earlier this month by a margin of 56-8. The bills would also scrap the state's 'pay at the pump' gas station and ATM sales channels.
The Lottery made waves last February by becoming the first US state lottery to offer instant-win online scratch tickets, which critics insist are online slots in all but name. Lottery director Ed Van Petten was immediately accused of overstepping his mandate by not seeking legislative approval for the launch.
Van Petten maintained that online expansion was well within the Lottery's authority and attempted to smooth the ruffled political feathers by pointing out that, far from cannibalizing convenience store lottery sales, the online site was actually serving as a pretty decent promotional tool.
Unconvinced, state pols passed legislation to scrap the online sales but the bill was vetoed a year ago by Dayton, who agreed that Van Petten had been operating within his authority and deserved a decent period in which to prove the online site's worth. Dayton's veto came after the legislative session had concluded, leaving legislators no option to override.
Dayton's office has declined to comment on the governor's plans this time around. Dayton could veto the bill again, but legislators have the votes to override. In February, Dayton vowed to veto this second effort, but more recently he claimed the issue wasn't worth "fracturing relationships with the legislature." Perhaps more crucially, Dayton has never had a veto overridden and presumably wants to keep his perfect record intact.
Assuming the worst, the discussion now turns to what scrapping the online sales will cost the state. Scientific Games Corp, which powers the state's online site, has previously warned that it would sue for up to $4m for the early cancellation of its contract, which had been set to run through 2018. Other observers predict Sci-Games' expected compensation could rise as high as $12m.
There's also the cost of replacing the gas pumps through which lottery sales were available. State Sen. Greg Clausen had proposed an amendment to the Senate bill that would have compensated gas station owners for their losses but this was rejected.
Some legislators have scoffed at these concerns, pointing to a $30m contingency fund the Lottery could use to settle any claims. Regardless, it appears Minnesota's pioneering efforts to drag the lottery business into the 21st century have been well and truly scuppered by the state's luddite faction.
Comments