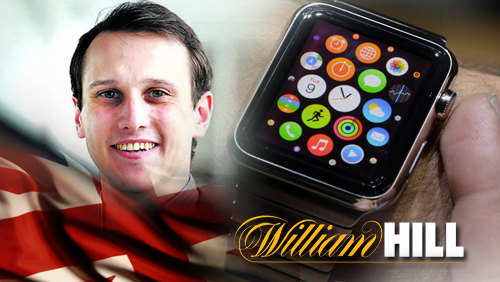 Last week, Ladbrokes Australia claimed to be the first bookie to receive Apple's approval of a new Apple Watch betting app but rival William Hill becomes the first operator to integrate Apple Watch functionality into its UK-facing iOS app.
Hills announced the integration of its sports betting application on Monday, enabling customers to bet on football and horseracing via the Apple Watch, which will debut on Friday.
William Hill PR spokesperson Jon Ivan-Duke told eGR Magazine that the operator saw great potential in the new wearable device with rival firms plotting similar launches in the coming months.
"It's exciting to launch new products at any time, but particularly as there won't be any other operator who will be in the marketplace before us," Ivan-Duke said. "Wearable technology is developing all of the time and Apple Watch gives William Hill the chance to connect with our customers in a new and innovative way."
"We always want to find the best ways to speak with our customers and interact with them and Apple Watch is an exciting new channel to explore," Ivan-Duke added.
Hold Your Hoses!
William Hill has suspended betting on a UK hose pipe ban as temperatures rocketed for April.
Hill slashed the odds on Sunday from 5/1 to 3/1 for there to be a hose pipe ban but with thermometers peaking in to the red, the firms are dousing a potential betting inferno by closing the market.
"We don't want to be burned with bets on a ban," said Ivan-Duke. "It's getting hotter and hotter and those who have already had a bet on the ban look home and hosed."